Kateryna Balukhtina's exclusive interview with Iryna Budans'ka
for Elegant New York (New York, 2015).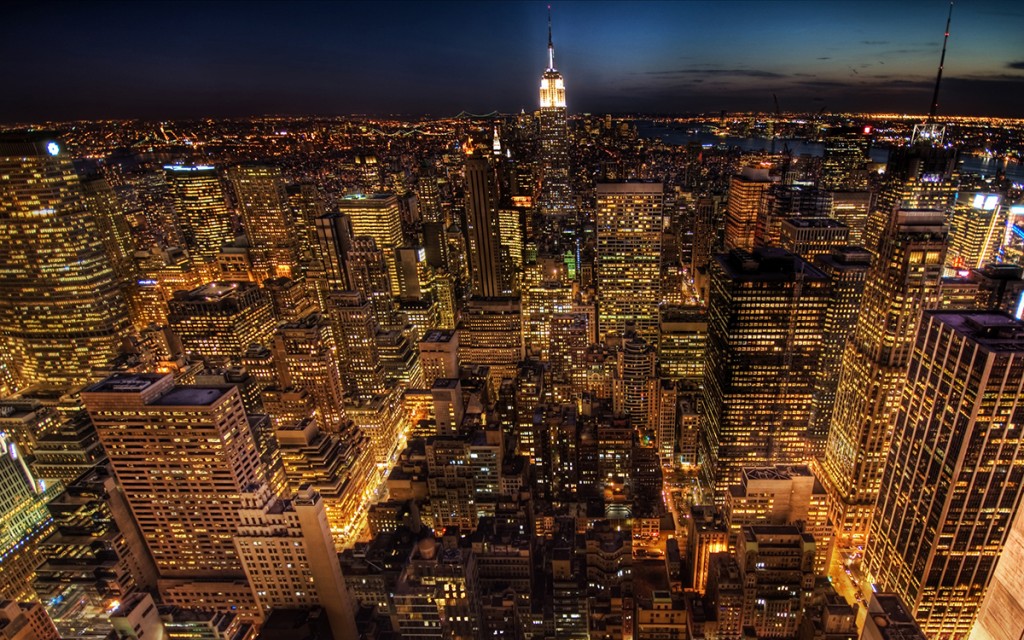 [box][quote]The wonderful "Music of Poetry" has been performed, but its echoes have not disappeared nor dissolved in time and space. Its impact continues to reverberate across the city, under the New York sky, among the spires of skyscrapers, between the trees of Central Park. Having touched our heartstrings, "The Music of Poetry" is a piece that will remain with us forever.[/quote][/box]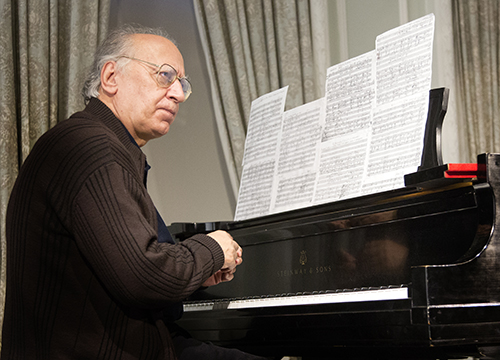 The Ukrainian composer Valentyn Syl'vestrov and his musical team recently spent a short time in New York, where they held creative meetings and played two memorable concerts that touched the hearts of those who were lucky enough to be part of these very special events.   Syl'vestrov played for an intimate soiree one evening, to a full house for the concert "The Music of Poetry" at the Ukrainian Institute of America another night, and again filled another space for a creative meeting at the Shevchenko Scientific Society. Syl'vestrov's music fans, musicians, and composers came from great distances to meet and hear the Maestro in person.  His concerts and events received rave reviews and a tremendous response from those in attendance.
When Valentyn Syl'vestrov's tour of New York finished, we were fortunate to be able to interview Iryna Budans'ka, the Founder of Master Klass Education and Culture Center (Kyiv).  It was through her efforts and passion for sharing Ukrainian culture that American audiences were introduced to most recent and important compositions of the Ukrainian composer, Valentyn Syl'vestrov.
Valentyn Syl'vestrov himself gave an interview to Elegant New York before the concert. You can read it here.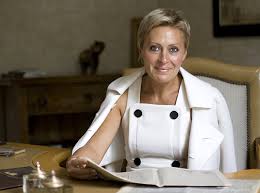 – Iryna, the Master Klass Education and Culture Center in Kyiv focuses on the promotion of Ukrainian culture on an international scale, this time focusing on the collaboration with Valentyn Syl'vestrov. How did this cooperation begin? And what motivates you to support projects that promote Ukrainian culture abroad?
– When I'm outside Ukraine, I always want to share what we are living with now, to tell about the changes in our country, and present the modern face of Ukraine. I don't know any language that could present a modern Ukraine better than the language of culture.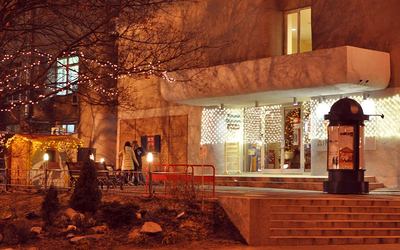 [box][quote]Fortunately, we have this opportunity. Every week, Master Klass hosts a variety of cultural events. Cultural life in the Ukrainian capital is really in full swing right now. Those who visit our center are likely to meet well-known composers, artists, writers, playwrights, translators, and academics every day. When you're surrounded by such "cultural abundance", there's a great desire to share it with the entire world.[/quote][/box]
Why did we feel the need to highlight and promote Valentyn Syl'vestrov's music and creativity?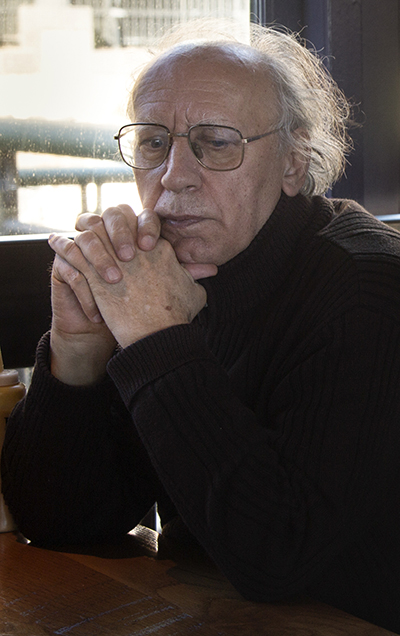 First of all, Syl'vestrov is a world-class composer, but he is a truly Ukrainian composer as well. Syl'vestrov's music resonates with depth and spirituality, harmonizing with the human heartstrings.  His music enables you to tune into yourself and the world around you.
Syl'vestrov's music is an intimate conversation about the most fundamental truths of our shared existence. In my opinion, the truest things are best conveyed in a low voice, with quiet music and quiet songs.
Additionally, as a great artist, Syl'vestrov is highly sensitive and feels deeply all that is happening in our reality, in our country, and in the times we're living in, with all their dramatic and tragic kinks. This is reflected in his compositions, which means Syl'vestrov's music is very contemporary, as it is a reaction to the world around him.
There's no doubt that Syl'vestrov is a musical genius and a grand-scale personality at the same time. He has great inner freedom, dignity, and a firm stance in several spheres – musical, civil, and universal. In my opinion, Syl'vestrov is the best and brightest representative of the intellectual, aspiring, and creative part of the modern world.
Our wish to make more people familiar with Syl'vestrov's music and his genius was the incentive for us to organize several concerts abroad in 2015.
– New York is one of the cultural capitals of the world. Presenting "The Music of Poetry" to America here was quite bold and even daring, considering the cultural competition, but everything went well and Syl'vestrov managed to not only impress but to charm and take the American audience by storm.
– Thank you so much! Indeed, we wanted American audiences to become acquainted with the contemporary works of Valentyn Syl'vestrov. His music is well-known in America, but it was important for us that the audience heard the compositions written during the latest dramatic years for our country.
[box][quote]Of course, the success of such projects depends not only on the quality of the cultural event itself, but also on the partnerships that make it happen. In our case, everything was at the highest level and our success is the joint accomplishment of all those who participated in the project: the Ministry of Foreign Affairs of Ukraine, the Ukrainian Institute of America, Taras Shevchenko Scientific Society, and our old partner – Elegant New York.[/quote][/box]
– Why did you choose this particular repertoire for the tour?
– From my perspective, "The Music of Poetry" is a very relevant project. In addition to its obvious musical and artistic value, the core of the project is its unifying principle. The music of poetry unites a word and sound, voice and music, two languages – Ukrainian and Russian, two cultures.
This principle of unity is of great value and importance in the world we're living in today. Connecting people, ideologies, cultures, and countries is extremely important and connections through culture may be the easiest way for us all to transcend the divisions of politics.
[box][quote]I'd also like to mention Syl'vestrov's meeting with an audience at the Shevchenko Scientific Society, which was an important stop on our tour. During the meeting, a very interesting dialogue between the composer and the expatriate community took place. Syl'vestrov shared with the audience recordings of his new choral works and, in particular, with the cycle "Maidan". The music of "Maidan" was written to accompany the words of the Anthem of Ukraine; his influence for the music was the days he spent on Maidan Square during the Revolution of Dignity.[/quote][/box]
For me, the cycle "Maidan" holds a special personal importance, as the world premiere of these works took place at Master Klass Education and Cultural Center.
But what is more important now, is that thanks to the music, we've been able to journey together to New York to share this music and all it represents. We've been able to move through the tragic events in our country, while we continue to pray for peace and hold hope for our compatriots at a spiritual level.
Listening to Syl'vestrov's music in New York united us all – Ukrainians and our American audience – in a shared sense of belonging to the historical events taking place in our country.
– Yes, indeed, it was quite unforgettable! I'd like such meetings and such unity to take place as often as possible. Tell me please, do you plan to present any new projects in the United States?
– Of course! We would like to focus next on cultural and educational projects that can be presented at select US universities. After all, the intellectual elite of America are formed there. It is important that both professors and students have the opportunity to learn about Ukraine as much as possible not only from historical essays, critics or media, but also from bearers of our modern Ukrainian culture.
We would like to thank Iryna Budans'ka for her wonderful interview and for her passion for promoting Ukrainian culture on an international level. And, of course, we wish to thank her for sharing the Music of Poetry by Valentyn Syl'vestrov with American audiences.
Editorial note. We were happy to participate in this project and believe it is a good start from which Master Klass Education and Cultural Center can launch additional interesting and important projects between Ukraine and America.  Now more than ever there is a real need for closer communication and more frequent exchanges between those who impact and create Ukrainian culture in Ukraine, with the Ukrainian expatriate community in the United States. Shared culture has always interesting for us on both sides of the ocean.  But now, the creative and cultural class in Ukraine is in many ways the most progressive, and it is the catalyst for the new social environment that is impacting the future of Ukraine.
The times are changing, in part due to the younger generation who grew up in an independent country. Today, a modern Ukrainian mentality is emerging right before our eyes, and it's high time that we learn to understand each other better. It is easier than ever for the expatriate community to learn about and understand the true realities of our modern Ukraine.  One can learn about people's lives not from the politicians and print media, but by meeting those who are directly involved in the formation of a new era in the history of our country. And the surest way to do this is the promotion of Ukraine's culture and arts. – Tatyana Borodina.