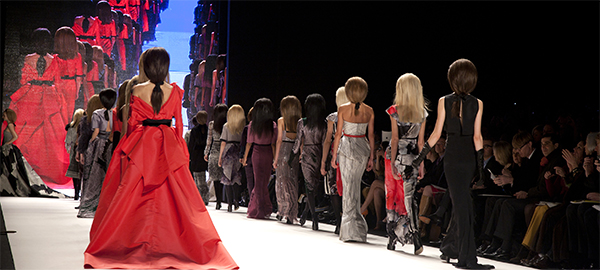 [quote style="boxed"]Сентябрь в Нью-Йорке не простой, даже, можно сказать – тяжелый  месяц для настоящего ценителя  уникальных и интересных городских событий . Такое изобилие  «всего на свете» представить себе сложно, а в сентябре Вам придется еще и решать и выбирать куда пойти, что посмотреть, где повеселиться, вкусно поесть и приятно провести время. [/quote]
Сентябрь –  месяц «Недель». Как хорошо известно поклонникам моды, в Нью-Йорке стартует "Fashion Week" ("Неделя Моды" Весна-Лето 2015), за которой последуют "Лондонская", "Миланская" и" Парижская".
Затем, заслуживает особого внимания  "Бродвейсккая неделя", когда можно приобрести билеты на бродвейские шоу со значительной скидкой.
Также, намечаются менее громкие, но весьма любопытные недели  "Ойстеров" и "Меда", а также значительная и серьезная "Неделя Технологий".
Кроме всего этого,  именно в сентябре, проходит день открытых дверей, т.е. бесплатный вход во все музеи города.
Как всегда в городе пройдет множество фестивалей, парадов, ярмарок. Обратите внимание на Центральный парк –  в сентябре в нем будет особенно интересно.
Читайте нашу Афишу, в ней можно найти  все, что поможет вам сделать правильный выбор и с пользой приятно провести время в Нью-Йорке.
[al2fb_like_button]
September 1, (begins Aug. 27) – Salsa festival – New York International Salsa Congress Dance & Music Festival has workshops, performances, live concerts, and competitions in New York Hilton
September 1 – 14. Broadway Week. Broadway discounts. Take advantage of 2-for-1 and upgrade deals on select Broadway Shows during Broadway Week.
September 4 – 11 – Fashion Week (Spring fashion show) show Join the world's top models, photographers, and designers when spring collections are unveiled at Fashion Week in Lincoln Center.
September 6, (10 a.m.) – Labor Day Parade. Celebrate workers with the AFL-CIO at the Labor Day Parade on 5th Ave from 44th Street to 64th Street.
September 7,(4 to 8 p.m.) – Art and fashion show Lower East Side Opening Night: Art + Fashion has a block party with bands, open art galleries, and 7 p.m. fashion show with dancers at Orchard & Grand. Free.
September 7 – 12, New cars – See the latest cars outdoors at Brookfield Place in Lower Manhattan during Motorexpo. Free.
September 11 – 28 – Oyster Week –  Oyster Week is a series of adventurous dining events and activities that benefit sustainable aquaculture.
September 8 – 14 – Honey Week  – Celebrate the honeybee with dinners, cocktails, tours, tastings, and workshops during NYC Honey Week.
September 13 – History celebration – The 1776 Peace Conference Celebration offers historic house tours, re-enactments, colonial dancing, outdoor cooking, crafters, music, and kids' activities, at the Conference House in Staten Island, if weather allows.
Saturday, September 13 at 5:30pm at KINGS BAY Y ВСЕГО ТРИ СПЕКТАКЛЯ!! (Два – в Бруклине и  один – в Fair Lawn!) В этой постановке театра STEPS, мотивы чеховской «Чайки» переплетаются с эпизодами жизни Нобелевского лауреата, поэта Иосифа Бродского. Если у вас не получилось попасть на этот спектакль в прошлом году, постарайтесь зарание приобрести билеты и обязательно приходите в этот раз!
TICKETS!!  Fair Lawn Russian Club, 10-10 20th St, Fair Lawn, NJ 07410  201-835-7708, 201-873-0769; Пятница, 12 сентября, 2014, 7:30pm, $30$25, fairlawnrussianclub.org,
Kings Bay YM-YWHA  3495 Nostrand Ave, Brooklyn, NY 11229. Суббота, 13 сентября 2014 5:30 pm; Воскресенье, 14 сентября, 2014, 5:30 pm, $25, stepstheatre.com, 212-841-5454
September 13, (11 a.m. to 3 p.m.) – Fly a kite. Bring a kite, or buy one at the Kite Festival at Brooklyn Bridge Park and watch it soar.
Opens September 17! Six Shows Only! Baryshnikov Arts Center presents the U.S. Premiere of celebrated contemporary Russian playwright Ivan Viripaev's ILLUSIONS, translated and directed by American theater artist Cazimir Liske, a Moscow Art Theatre School graduate.
Through intertwining stories of two married couples, Illusions playfully unravels paradoxes of passion and death, loyalty and betrayal, truth and fiction, in a darkly comedic examination of true love. Sept. 17-20 and Sept. 23-24, 2014 All Performances at 8 PM
September 18 – 28 – Photo expo. View photographs in a village of shipping containers, hear photographers and editors, watch projections at night, and visit a beer garden and food trucks at Photoville at Brooklyn Bridge Park, Pier 5. Free.
September 18 – 21 – Horse show. Watch show jumping, exhibition acts, and a polo game on the last day at Central Park Horse Show in Trump Rink at Central Park.
September 19, (5 to 9 p.m.)  – Central Park food fest. Buy food, beer, and wine at Smorgasburg at Rumsey Playfield in Central Park, with DJ music. Free entry.
September 20 – Oktoberfest in Central Park  – Enjoy German beer and food while you hear live music at the Steuben Parade Oktoberfest at Rumsey Playfield in Central Park. Sells out.
September 20, (noon) – German parade – The German-American Steuben Parade features marching bands, dance groups, floats, and walkers in traditional costumes on Fifth Avenue. Free.
September 20 – Yankees festival. FanFest offers free games, food, live music, and lines to get player autographs at Pier 86. Free.
September 26 – 28 – Arts festival. The Dumbo Arts Festival features art, music, and performances by 400 artists, including dance, visual art, multimedia exhibits, large-scale projections, poetry, and street-corner shows. Free.
September 26, (6 p.m.) – Tattoo & motorcycle festival. Watch entrants compete in the great blue-collar arts of tattooing and motorcycle customization at the Coney Island Tattoo and Motorcycle Festival. Free.
September 27 – Free museum day. Get a free ticket for two people to visit one of 90 museums in New York state on Museum Day Live.
September 29 – Oct. 5. – Technology week  Tech Week includes speakers, vendors, recruiters, parties, and a Thurs./Fri. summit at 82 Mercer St.
September 28 – Leading Russian poets of New York gather to celebrate the 10th anniversary of "Interpoezia", an influential poetry almanac. This event is in Russian.
This series is made possible in part with support from the National Endowment for the Arts and with public funds from the New York State Council on the Arts with the support of Governor Andrew Cuomo and the New York State Legislature.
И еще одно объявление:
Бруклинский клуб русских поэтов и ОРЛИТА приглашают вас на презентацию журналов "Слово/Word" и "Гостиная". Встреча состоится в субботу 13 сентября 2014 г. в 2 часа дня по нью-йоркскому времени – в Бруклинской публичной библиотеке Kings Bay, 3650 Nostrand Avenue between Avenue W and Avenue X, telephone (718) 368-1709. В программе принимают участие: Ирина Акс, Лина Алавердова, Рита Бальмина, Ефим Бершин, Нина Большакова, Александр Долинов, Вера Зубарева, Елена Литинская, Александр А. Пушкин, Надя Рафальсон, Наталья Резник, Татьяна Янковская.