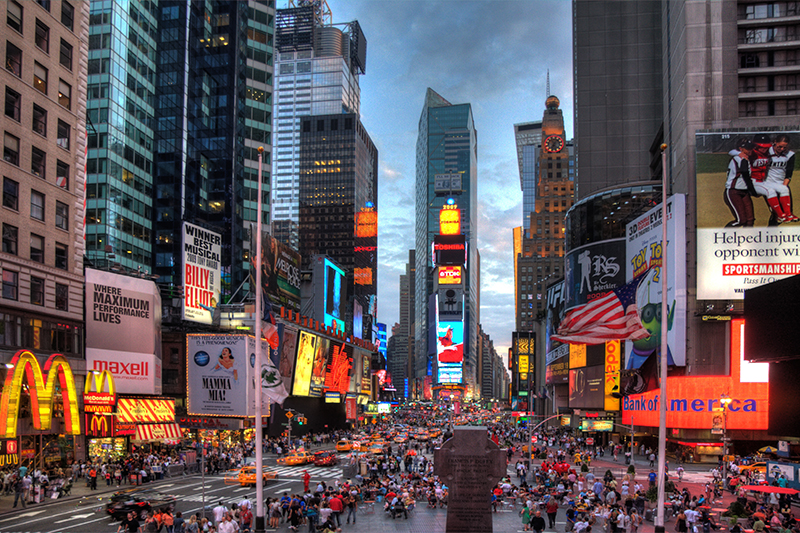 Наступает сентябрь, золотое время в Нью-Йорке. Нет, конечно не в смысле – золотой осени! 
[box][quote]Сентябрь – это начало сезона! Это почти Новый год: все вновь, все снова, все для нас. Организаторы и устроители стараются изо всех сил: новые презентации, шоу, циклы мероприятий, меню в ресторанах, постановки, выставки, концерты. Кроме того, Неделя моды, осенние коллекции одежды и всего остального в бутиках и больших магазинах. Но главное, город оживающий после знойного августа: парки еще по-летнему зеленые, но дарящие вечернюю прохладу, набережные залитые нежным золотым предзакатным солнцем, летние площадки кафе и ресторанов, на которых теперь приятно посидеть без опасности получить тепловой удар, улицы с редеющими толпами туристов, витрины магазинов пробуждающие фантазии о том, как мы станем одеваться в грядущем сезоне. Сентябрьское обновление, ничуть не хуже, чем весеннее пробуждение – наслаждайтесь и не упускайте свой шанс почувствовать новизну во всем, и главное – в себе.[/quote][/box]
У нашего журнала тоже новость. Открываем сезон новым проектом: «Art Nights at Zinc Bar».
Открытие состоится 7 сентября в 6:20, в одном из самых популярных джазовых клубов Нью-Йорка – «Zinc Bar» по адресу: 82 West 3rd Street (междуThompson Street и Sullivan Street). «Art Nights at Zinc Bar»  – это знакомство с новыми интересными творческими личностями и встречи со знаменитыми гостями, это беседы об искусстве, литературе, поэзии, кинематографии, истории, моде. И конечно о Нью-Йорке! Программу на 7 сентября смотрите ниже.
Итак, что ждет нас в Нью-Йорке в сентябре. Обед на улицах Нью-Йорка – все гости в одеты в белые наряды. Принять участие могут все! Фестивали джаза, кино, искусства, магии, вина. Бурлеск шоу, шоу лошадей и новое шоу цирка du Soleil. Выставка фотографий. Бесплатный день в музеях. И конечно многое другое о чем вы узнаете из нашей Афиши.
Но сначала  несколько слов о презентациях наших партнеров и друзей:
Журнал InLove, в рамках недели моды 11 сентября проводит модную презентацию в ресторане «Pepela». Информация здесь.
Писатель Татьяна Шереметьева написала новую книгу "Жить легко". 20 сентября в Литературном кафе "Дядя Ваня"  состояться презентации  и чтение глав из книги. Информация здесь. 
Ювелир Кира Коктыш создала новую коллекцию «Поэзия без слов». Презентация состояться 22 сентября в магазине «St.Petersburg». Информация здесь.
7 сентября. Art Nights at Zinc Bar.
Программа вечера.  
Песни Визбора, Окуджавы и Клячкина в исполнении Леонида Новикова и Александра Година. 
Стихи Риты Бальминой и Ирины Акс. Исполняют авторы.
Персональная выставка графических работ Риты Бальминой.
8:00 Джаз-секстет под управлением Валерия Пономарева.
Входной билет 7 сентября на весь вечер – с 6 pm  до 12 am – всего 15 долларов
7 сентября Elegant New York будет приветствовать всех гостей бесплатным бокалом вина.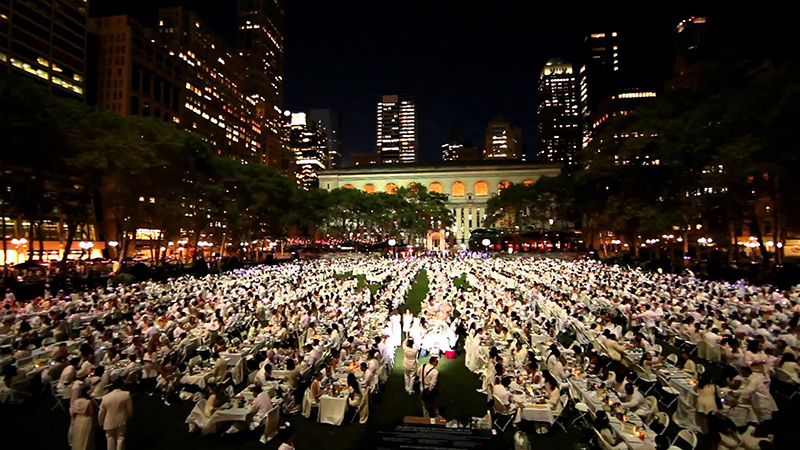 Наша Афиша

:
Jazz festival. September 1 – 30, 2016. Generations in Jazz Festival has performances every night at Dizzy's Club at 60th & Broadway. Tickets.
Sailboat ride on Clipper City. September 1 – Oct. 9, 2016. Tour New York City Harbor aboard the majestic Clipper City tall ship, sailing from Battery Park. 
Tony-winning musical. September 1 – Dec. 18, 2016 (also Aug.) The show-business musical Chicago has sizzling songs, seductive dance numbers, and a powerful story at Ambassador Theatre.Discount tickets $33 to $95.
The Color Purple. September 1 – Dec. 18, 2016 (also Aug.) Based on the novel and film, The Color Purple won a Tony Award for Best Musical Revival, with its story of hope featuring a joyous score of jazz, ragtime, gospel, and blues at Jacobs Theatre.Discount tickets $75 to $99.
Electric Zoo music festival September 2 – 4, 2016 Electric Zoo is an electronic dance-music festival that brings top acts and 150,000 fans to Randall's Island Park each Labor Day weekend.
New show by Cirque du Soleil September 2 – 24, 2016 Paramour tells the story of a young actress torn between love and art in the glamorous world of Golden Age Hollywood with acrobatics, music, and dance at Lyric Theatre. Discount tickets $45 to $75.
Magic September 2 – October 10, 2016 (7 p.m.) Charming magician Miles Thorn performs astonishing illusions and incredible feats of juggling at Elektra Theatre. Discount tickets $14 to $30.
Party cruise September 3, 2016 (boarding 6:30 p.m.) A Saturday Night Cruise aboard the Queen of Hearts on Labor Day weekend includes three hours of city views, DJ dance music, and a pricey bar departing from Pier 36 for age 21+. Discount tickets $7.
County fair September 3 – 5, 2016 Richmond County Fair features kids' crafts, historical demonstrations, amusement rides, eating contests, classic cars, farm animals, music, and entertainment Labor Day weekend in Staten Island.
Art fair September 3-5 and 10-11, 2016  Washington Square Outdoor Art Exhibit features 120 artists on the sidewalks of University Place. Repeats in May. Free.
Blue Man show September 3 – 25, 2016 (also Aug.) Blue Man Group puts on an exciting show combining comedy, theater, music, and special effects at Astor Place Theatre.Discount tickets $51.
Music and wine September 3 – 30, 2016 (also Aug.) City Winery presents live music ranging from folk acts and jazz quartets to singer-songwriters and indie rock bands in an intimate setting. Discount tickets $14.
Renaissance fair September 3 – Oct. 2, 2016 (weekends) Travel one hour north to 16th century England to see knights joust, mingle with costumed minstrels, shop in an artisan market, play games, and watch shows at New York Renaissance Faire. Discount tickets $21 (Sept. 3 and later).
Show-tunes festival September 5, 2016 (1 p.m.) Hear great songs from stage and screen at Elsie Fest in Ford Amphitheater at Coney Island Boardwalk.
Rock out with Bryan Adams September 7, 2016 (8 p.m.) Bryan Adams plays classics like "Summer of '69" and "Heaven" plus new songs at The Amphitheater at Coney Island Boardwalk.Discount tickets $40.
SummerStage September 7 – 23, 2016 (begins May 16) Enjoy outstanding music, comedy, theater, dance, lectures, and films during SummerStage in city parks. The (mostly) free concerts are popular, so arrive early.
Romantic jazz cruise September 7 – 28, 2016 (9:15 p.m. Wed.) Enjoy skyline views and live jazz on an Evening Jazz Cruiseaboard the 158-foot Clipper City Tall Ship departing from Battery Park. Discount tickets $42.
New York Fashion Week September 8 – 15, 2016 Top models, photographers, and designers attend invitation-only events that unveil spring collections during New York Fashion Week. Repeats in Feb.  See events open to the public.
Labor Day Parade September 10, 2016 (10 a.m.) Celebrate workers with the AFL-CIO at the Labor Day Parade on 5th Ave from 44th Street to 67th Street.
Bike rides September 10, 2016 Choice of two locations Bike the Boros offers three rides of 31, 62, and 100 miles, all beginning at Pier 97, Hudson River Park.
Pig feast September 10, 2016 (11:30 a.m. to 4 p.m.) Taste amazing dishes from dozens of chefs, with wine, beer, and live music at Pig Island in Erie Basin Park.
Tribute in Light September 11, 2016 Tribute in Light is two brilliant beams that shine into the sky all night near the World Trade Center site.
Taste of Greenwich Village September 14, 2016 (6:30 p.m., VIP 6) Enjoy tastes from 30 local food and wine purveyors at Taste of the Village in Washington Square Park.
Film festival September 14 – 18, 2016 Harlem International Film Festival shows features, documentaries, shorts, youth projects, and animated works, and it includes panel discussions and awards.
The white dinner September 15, 2016 Tickets are scarce for Le Dîner en Blanc, a glamorous picnic and dance for couples dressed in white who bring their own food and table to a public location, which is kept secret until the last minute.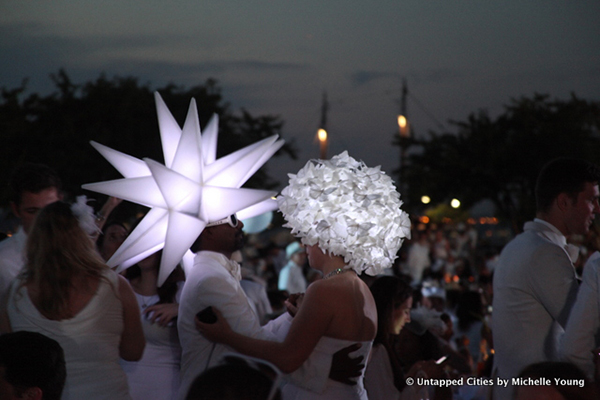 Tasting at the zoo September 15, 2016 (7:30 p.m., VIP 6:30) Sip for the Sea is a $200 benefit for the aquarium featuring pairings of sustainable wines with seafood and hors d'oeuvres at Central Park Zoo for age 21+.
Performing arts festival September 15 – 23, 2016 BEAT (Brooklyn Emerging Artists in Theatre) Festival includes contemporary theater, dance, and spoken word.
German parade September17, 2016 (noon) See German-American marching bands, floats, dance groups, and walkers in traditional costumes in the Steuben Parade on Fifth Ave. Free or reserved seats.
Horse show September 21 – 25, 2016 Watch show jumping and exhibition acts, with a family day on Sept. 25 at Central Park Horse Show in Trump Rink at Central Park.
Film festival September 21 – 25, 2016 Urbanworld Film Festival features films and panel discussions that support and develop content creators of color at AMC 34th St. Theater and SVA Theatre.
Photo expo September 21 – 25, 2016 View photographs in a village of shipping containers, hear talks by photographers and editors, watch projections at night, and visit a beer garden and food trucks at Photoville at Brooklyn Bridge Park, Pier 5. Free.
Irish fair September 24, 2016 The Great Irish Fair of New York is a family-friendly event with Irish music, dancing, vendors, and a kids' area at The Amphitheater at Coney Island. Donation.
Folk music in the park September 24 – 25, 2016 Washington Square Park Folk Festival features an old time string band, blues, traditional Mexican, and a square dance. Free.
Brooklyn street fair September 25, 2016 Flatbush Frolic offers music, dance, food, children's rides, local vendors, and arts and crafts. Free.
Dance festival September 26 – Oct. 8, 2016 Fall for Dance Festival features 20 international dance companies in five unique programs and two world premiere commissions at City Center.
Opera by Mozart September 27 – Nov. 10, 2016 Don Giovanni is a seduction artist who ends up paying for his immorality in this Italian opera with subtitles at Metropolitan Opera House. Discount weekday tickets $85.
Affordable Art Fair September 28 – Oct. 2, 2016 Browse contemporary paintings, prints, sculptures, and photographs from 50 galleries at the Affordable Art Fair, which includes workshops and activities at the Metropolitan Pavilion. Repeats in March.
Architecture & design films September 28 – Oct. 2, 2016 Architecture & Design Film Festival features films, panel discussions with design leaders and filmmakers, and parties at Cinépolis Chelsea.
Burlesque festival September 29 – Oct. 2, 2016 New York Burlesque Festival is four nights of bump and grind by dozens of performers in feathers and lace, ending in a glittery razzle-dazzle spectacular. Discount tickets to opening night party $11.
New York Film Festival September 30 – Oct. 16, 2016 NYC locations.  See classics, documentaries, and full-length feature films by the world's great filmmakers at the New York Film Festival (NYFF).