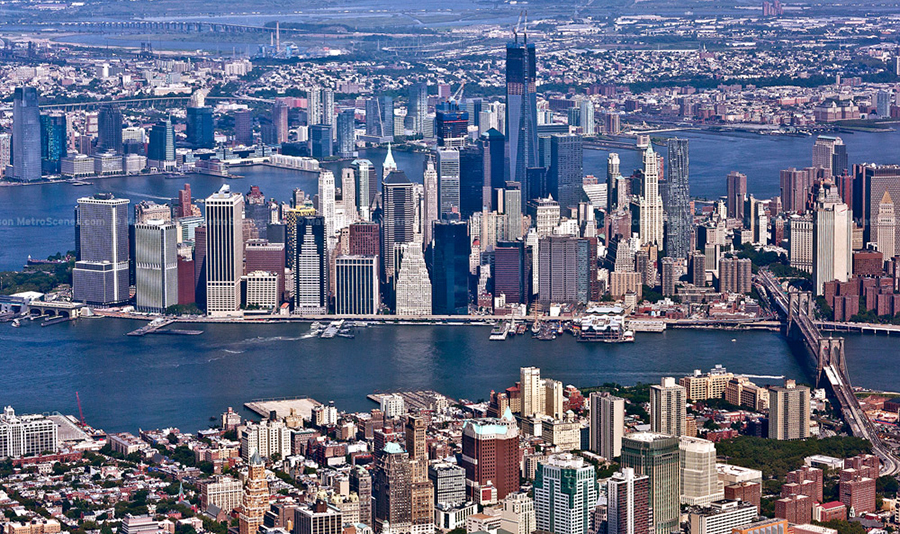 [box][quote]Август, жарко… Лето есть лето и не стоит ворчать по поводу высоких показателей термометров. Еще пару месяцев и все начнут страдать от ветра и дождя, а потом от снега и холода. Так что, живите сегодняшним днем и получайте от него все, что возможно, но особенно удовольствие и радость. Остальное дело техника, как говорится. Поэтому постарайтесь найти для себя оптимально возможную среду обитания в сложившихся природных условия. Но, я не стану призывать вас отправляеться на природу, на воздух, к воде – это и так очевидно. Не буду говорить о том, что в Нью-Йорке много мест где можно отдохнуть от жары в хорошо кондиционированном помещении: музеи, рестораны, магазины, холлы больших зданий – это все знают. Но, на всякий случай напомню, что во многих музеях сейчас проходят интересные выставки, поэтому не поленитесь выбрать что-то по своему вкусу и провести несколько часов наедине с прекрасным и вечным в прохладных музейных залах. Тем кто не успел: все все еще длится потрясающая выставка костюма "Manus x Machina" At The Met Fifth Avenue. MAY 5, 2016–SEPTEMBER 5, 2016. 
В этом месяце, я хочу обратить ваше внимание на уникальные нью-йоркские концерты таких звезд как Пол Макартни, Билл Жжоэл, Барбара Стрейзанд и других.[/quote][/box]
[al2fb_like_button]
Не упустите шанс услышать и увидеть легендарных артистов на нью-йоркских подмостках:
Paul McCartney – Aug 7, MetLife Stadium (NJ)
Barbra Streisand – Aug 11 & 13; Barclays Center
Billy Joel – Aug 9, 2016; MSG
Drake & Future – Aug 4-8, 2016; MSG
WWE – Aug 20-22; Barclays Center
Bruce Springsteen – Aug 23, 25 & 30, MetLife Stadium (NJ)
Twenty One Pilots – Aug 10-11, 2016; MSG
Так же сообщу что знаменитый мюзикл "Cats" вернулся на Бродвей.  Cats Broadway Musical
Еще с удовольствием напомню, что в августе проходит ежегодный фестиваль фильмов в Центральном парке, летние показы спектаклей Метрополитан оперы в HD (Metropolitan Opera – Summer HD Festival ), пьесы Шекспира в Центральном парке и вечеринка в стиле джаза 20-х годов на Губернаторском острове.
Подробней читайте в нашей Афише:
NYC Restaurant Week. August 1 – 19, 2016 (begins July 25). Get a special deal on a 3-course lunch or dinner at 300 restaurants during NYC Restaurant Week, not on Saturdays. Repeats in Jan.
Harlem Week. August 1 – 27, 2016 (begins July 31) Harlem Week is a month-long celebration of local culture and history that includes performances, tributes, films, fashion, a children's festival, sports events, a 5K, and a street fair. Most events are free.
Free Summer Movies. August 1 – Sept. 15, 2016 (begins in May). Free Summer Movies are shown evenings at NYC parks in Manhattan, Queens, Brooklyn, and the Bronx.
Summer Stage. August 1 – Sept. 23, 2016 (begins May 16) . NYC locations
Enjoy outstanding music, comedy, theater, dance, lectures, and films during SummerStage in city parks. The (mostly) free concerts are popular, so arrive early.
Outdoor concerts. August 3 – 13, 2016 (begins July 20). Out of Doors is three weeks of world-class music, dance, and spoken word in the plazas of Lincoln Center if dry. Free.
Romantic jazz cruise. August 3 – Sept. 28, 2016 (9:45 p.m. Wed.). Enjoy skyline views and live jazz on an Evening Jazz Cruise aboard the 158-foot Clipper City Tall Ship departing from Battery Park. Discount tickets $42.
Broadway hits in the park. August 4 & 11, 2016 (begins July 7). Bring a blanket to watch popular shows on and off Broadway perform their biggest hits Thursday afternoons at Broadway in Bryant Park. Free.
Science magic. Aug. 3 – Oct. 4, 2016 (also July) A physics demonstrator from Rutgers University performs amazing feats in That Physics Show [sound] using cold liquid nitrogen, burning hydrogen, and bright laser lights at Elektra Theatre. Discount tickets $20.
Dragon boat festival. August 6 – 7, 2016. Watch 170 dragon-boat teams compete on Meadows Lake, and enjoy music, dance, martial arts, folk art, and Chinese food at Hong Kong Dragon Boat Festival at Flushing Meadows Park in Queens. Free.
Summer Streets. August 6, 13, 20, 2016. The city closes seven miles of Park Avenue and Lafayette Street to cars so you can play, run, walk, dance, and bike carefree during Summer Streets. Expect food, entertainment, and activities. Free.
Italian traditional festival. August 11 – 14, 2016. The Giglio Feast of Saint Antonio celebrates Italian food, culture, religion, and tradition. On Sunday, a platform holding a 12-piece band and 80-foot statue is carried through the streets of East Harlem. Free.
1920s lawn party. August 13 – 14, 2016. Wear a flapper costume and dance to the Dreamland Orchestra at Jazz Age Lawn Party, which includes a Charleston dance contest, dance lessons, follies, food, 1920s cars, and a kidland on Governor's Island.
Concert in the garden. August 13 & 25, 2016 (6:30 p.m.) Your ticket to Summer Concert Evenings includes a free cocktail and a concert on the conservatory lawn at New York Botanical Garden for age 21+. Discount tickets $27.
August 13 – Mipso (indie band)
August 25 – Giordano & the Nighthawks (jazz)
Ballet. August 19 – 20, 2016 (8 p.m.) See three U.S. premieres at Ardani 25 Dance Gala at New York City Center. Discount tickets $28 to $85.
Cats Broadway Musical Previews Jul 14; Opens Aug 02, 2016. Andrew Lloyd Webber's classic musical, which ran for 18 years, and returns to Broadway in 2016, tells the story of a tribe of cats, the Jellicles, and the night they make what is known as "the Jellicle choice" to decide which cat will ascend to the Heaviside Layer and come back to a new life.
Pop-erotica show. August 20, 2016 (6 p.m.) The Sweet Spot is a high-energy celebration of the sexy arts, featuring spoken word, burlesque dance, body painting, erotic fashion, comedy, and DJ music at The Hall Brooklyn for age 21+. Discount tickets $10 to $20.
India parade. August 21, 2016. India Day Parade begins at E 38th St. and goes down Madison Avenue to food booths and cultural programs at E. 27th Street, which close at 6 p.m. Free.
Movies in the park. August 22 – 27, 2016. See popular films at Central Park Conservancy Film Festival. Bring a picnic and blanket for the lawn, but no chairs, glass bottles, or alcohol. Captioned. Free.
Jazz superstars. August 26, 2016 (8 p.m.) Dave Koz & David Sanborn play saxophones at Wellmont Theater in Montclair, NJ. Discount tickets $30.
Jazz festival. August 26 – 28, 2016.  Charlie Parker Jazz Festival has concerts, recordings, and talks in honor of jazz legend Charlie Parker. Free.
Outdoor opera videos. August 27 – Sept. 5, 2016. See popular Metropolitan Opera shows onscreen in Lincoln Center Plaza at Summer HD Festival. Free.
Brighton Beach street fair. August 28, 2016. Brighton Jubilee Festival celebrates diversity with multiple entertainment stages, a marketplace, kiddie rides, and food stands on Coney Island. Free.
Annual Central Park Film Festival FREE August 24-27, 2016
Для гостей Нью-Йорка приведем список отелей, где есть бассейны, причем, часто на крышах.
New York City Hotels with Pools Quick Links. Click for current rates and reviews or keep reading for more hotel details.