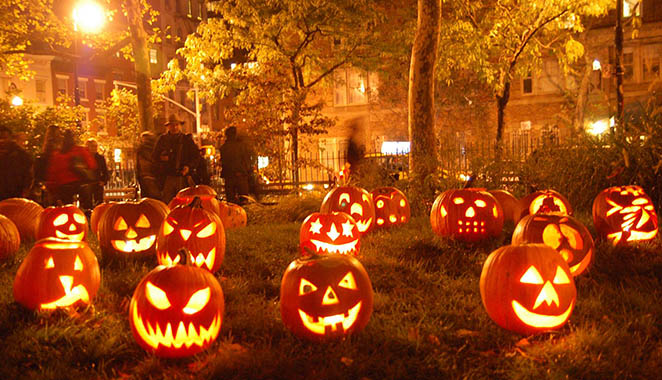 [box][quote]Найдем в себе мужество признать, что среди множества интереснейших событий октября в Нью-Йорке, самым популярным остается Halloween . Но, на наш взгляд, самым эксклюзивным и необычным может стать для каждого, кто находится в октябре в городе, участие в Дне открытых дверей Нью-Йорка, который пройдет 17 и 18 октября. Это ежегодное мероприятие позволяет увидеть 150 самых эксклюзивных архитектурных объектов, частных домов и памятников, а также то, что обычно остается за кадром туристических экскурсий. Ну, конечно, вы не сможете увидеть все в один раз, но хотя бы 3-4 за выходные вполне реально.[/quote][/box]
В этом году, «гвоздем сезона» считается посещение недавно отремонтированного Great Hall of the New York Hall of Science (47-01 111th St., Corona, NY, 11368, Phone: 718-699-0005), который был на реставрации в течение нескольких лет.  День открытых дверей позволит получить незабываемое впечатление от этого необычного здания расположенного в Квинсе, от его внутренних интерьеров и сада на крыше, на которые в другое время вряд ли удастся взглянуть.
Даже завсегдатае Дня открытых дверей имеют шанс увидеть что-то уникальное, не говоря о тех, кто выберется на этот праздник впервые. Изучите на полный список мест, которые можно посетить и зарезервируйте заранее то что бы вам хотелось увидеть больше всего.  
Как мы рассказывали в сентябре (надеюсь вам удалось взять билеты) обязательно стоит посетить хотя бы один из этих спектаклей или концерт:
BILLY JOEL . Madison Square Garden : Closes 17th December 2015
"China Doll" на Бродвее с участием Аль Пачино  Первый спектакль 21-го октября.
22 Oct 2015 – 14 Feb 2016. Броадвей. MISERY, с участием Брюса Уиллиса..,BRAND NEW FOR 2015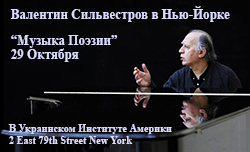 [box][quote]Но кроме этого мы хоти представить вам мероприятие в организации которого Elegant New York принимал самое непосредственное участие.
29 октября в Украинском Институте Америки (Ukrainian Institute of America)  на Пятой авеню и 79 стрит состоится концерт Валентина Сильвестрова, одного из самых выдающихся украинских композиторов современности.[/quote][/box]
1 октября состоиться встреча с писательницей Татьяной Шереметевой (кстати, автором Цикла  "Путешествия дилетантки" в нашем журнале) в магазине Санкт-Петербург на Пятой авеню. Информацию см здесь.
Об стальном не менее интересном чем всегда читайте в нашей Афише.
[al2fb_like_button]
October 1 – 31, 2015. Architecture and design month
NYC locationsArchtober offers special tours of buildings, lectures, films, and exhibitions that help us to appreciate architecture and design in everyday life.
October 1 – Nov. 30, 2015 (also Sept.). Funny Hitchcock play
39 Steps is a classic film by Alfred Hitchcock about a wrongly accused man racing to clear his name while evading the law. This comedic spoof is a fast-paced play at Union Square Theatre. Discount tickets $20 to $45.
October 2, 2015 – Nov. 7, 2015. Haunted house – SoHo
Celebrate the macabre when intense, creepy actors confront you in the labyrinth of passageways at Blood Manor, 163 Varick St. Not for pre-teens. See dates. Discount VIP tickets $29.
October 2 – Nov. 15, 2015 (6:45 p.m.). Romantic jazz cruise
Enjoy skyline views, live jazz, and a complimentary drink aboard a 1920s-style yacht during the Evening Jazz Cruise, which begins at Chelsea Piers (Pier 62). Discount tickets Oct. 2 or 23, $34.
October 3, 2015 (9:30 to 11:30 p.m.). Jazzy burlesque sail.
A Burlesque Sail on the Clipper City tall ship features romantic Jazz Age music from the '30s and '40s, plus three dancers, for age 21+. Discount tickets $36.
October 4, 2015. Medieval fair
The Medieval Festival transforms Fort Tryon Park into a medieval town with bright banners, processional flags, and performers in period dress. Enjoy medieval music, magic, dancing, juggling, food and craft vendors, and knights jousting on horseback. Free.
October 7, 2015 (6 p.m.). Pizza party
Eat pizza samples from dozens of New York City's best pizzerias at Slice Out Hunger in St. Anthony's Church.
October 9-11 – RusDocFilmFest-3W – Восьмой независимый фестиваль российского документального кино в Нью-Йорке. В  помещении  Anthology Film Archives (32 2nd Ave, New York, NY 10003), DCTV и Brooklyn Public Library. Подробней читайте здесь.
October 12 – 18, 2015. Technology festival.
Techweek includes speakers, vendors, recruiters, parties, and a conference on Thursday and Friday.
October 14 – Nov. 22, 2015. White Light Festival. See world-class performances, films, and artist talks with a focus on music during White Light Festival at Lincoln Center for the Performing Arts.
October 17 – 18, 2015. Open House New York – это ежегодное мероприятие, во время которого исторические здания, архитектурные шедевры, прочие достопримечательности, обычно закрытые для широкой публике открывают свои двери для желающих. Это прекрасная возможность для знакомства с уникальным Нью-Йорком. Но примите во внимание, что некоторые туры можно посмотреть заранее на сайте Open House в Нью-Йорке в конце сентября. Некоторые особо популярные туры требуют регистрации заранее (порой за несколько недель).
 October 17 – 18, 2015. Oyster Festival
The Oyster Festival has live entertainment, tall ships, pirate shows, midway rides, art, oyster eating and shucking contests, and a seafood court in Oyster Bay on Long Island. Free.
October 22 – 24, 2015. Garment District festival
Garment District Arts Festival offers exhibitions, performances, workshops, open studios, art, and gallery receptions near 8th Ave. and W. 38th St. 
October 24, 2015 (11 a.m. to 3 p.m.). Halloween at Socrates Park.
Halloween Harvest Festival includes art and costume making workshops, face painting, restaurant food, live music, and a dog costume contest at Socrates Sculpture Park in Queens. Free.
October 24 – 25, 2015. Halloween at the zoo.
Boo at the Zoo features a spooky barn, costume parade, dance party, craft making, and treats for the animals at Prospect Park Zoo.
October 24 & 31, 2015. Dogs in costume
Oct. 24 noon – Dogs don crazy costumes to win valuable prizes for their owners at Tompkins Square Halloween Dog Parade in Tompkins Square Park. Free.
Oct. 31 noon – Great PUPkin Festival is a dog costume contest at Fort Greene Park in Brooklyn. Free.
October 25, 2015. Halloween in Central Park
Wear a costume and bring a carved pumpkin (see rules) to Halloween Parade and Pumpkin Flotilla for free spooky music, crafts, a parade, and twilight pumpkin float at Charles A. Dana Discovery Center.
October 30, 2015 (7 or 10 p.m.). Halloween show.
Watch silent 1922 German horror film "Nosferatu" with live organ, then see an immersive show of fantastic creatures at Nosferatu and Procession of the Ghouls at The Cathedral of St. John the Divine.
October 31, 2015 (2 to 5 p.m.). Halloween at the museum
Kids can come in costume for trick-or-treating, magic shows, craft projects, music, and live storybook characters at the Halloween Celebration at the American Museum of Natural History.
October 31, 2015 (9 p.m.). Halloween masquerade ball.
Mix, mingle, frisk, and frolic to DJ tunes at the priceyMasquerade Ball in the grand opulence of Capitale.
October 31, 2015 (7 p.m.). Halloween parade.
The big Village Halloween Parade features 53 bands, dancers, artists, puppets, and thousands of New Yorkers in costume parading up 6th Avenue. Free.