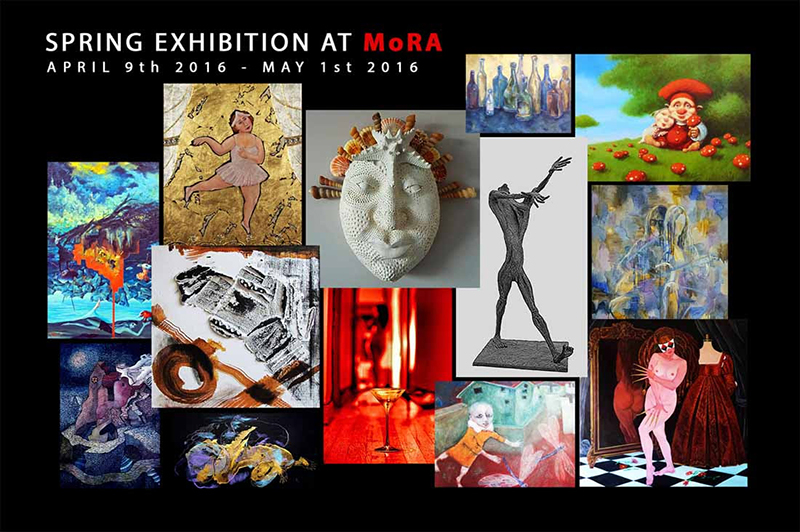 April 9th through May 1st, 2016
Open Saturday, Sunday from 1 pm to 6 pm
OPENING RECEPTION WITH ARTISTS: Saturday, April 9th 6PM-9PM
MoRA presents exhibition of talented modern Russian and Ukrainian painters and sculptors living in NJ, NY, Boston, Moscow and St.Petersburg:
PARTICIPATING ARTISTS:
SERGEY DIKOVSKY, NY
GENNADY FELDMAN. NY
SERGEY GOLOSHAPOV, JERSEY CITY, NJ
GRIGORY GUREVICH, JERSEY CITY, NJ
ALEX AG, NY
ALEX KHOMSKI, BOSTON
IRENE KOVAL, NY
LARISA KUCHERENKO, MOSCOW
YELENA LEZHEN, NY
VIOLETTA LIVSHEN, NJ
VIKTOR MILOSLAVSKY, NY
EMIL SILBERMAN, NY
EKATERINA VASYUCHKOVA, MOSCOW
DMITRY YAKOVIN, ST. PETERSBURG
ABOUT THE ARTISTS:
SERGEY DIKOVSKY, NY
Sergey Dikovsky born and raised in Ivanovo, Russia, Sergey Dikovsky has been drawing, carving, and sculpting since early years. Even though he attended the College of Textile Design in Russia, Sergey considers himself as self-taught. He moved to New York in 1989 with his wife and two sons. Having to support himself and his family, Sergey worked as a computer programmer, which left him little time for his passion. Nevertheless, he always found an opportunity to sneak in a sketch, a rough wooden carving, or a painting on cardboard. Having retired, Sergey found himself spending more and more time at his easel. Finally free of time constraints, he boldly plunged into the world of creativity, experimenting with colors, perspectives, and themes.
Sergey's inspiration is the world around him – words (both written and spoken), sounds, places, and images. He devours information in all forms. An avid reader, an attentive listener, and an observant spectator he is always either pondering some new idea, or redeveloping an old one. He is fascinated with history and world religions, and knowledgeable in a great many of subjects, which makes his paintings multifaceted expressions of his perception.
Sergey's art is sometimes humorous, sometimes spiritual, and sometimes contemplative. It can be both colorful and dark. But no matter what the canvas displays, it always manages to tug at our inner strings. It stimulates the viewer's thought, soul, and imagination. His works are beloved by a wide circle of friends' family, and acquaintances, and are located in private collections in Europe and the US. He currently lives in Brooklyn, NY, with his wife.
http://www.dikovsky.us/
GENNADY FELDMAN, NY
Gennadiy Feldman moved to US from Kiev, Ukraine. He graduated the College of Art and Technology in Kiev and worked as an artist in animation studio, while practicing painting and drawing. In United States Gennady worked on movie sets and supported him by painting commissioned murals. He writes about his art: "I used varying techniques in my work and especially liked to use fluorescent paint. Visual illusions and luminous compositions create special atmospheres and imaginative perspectives. I like architectural landscapes and at times used architectural elements in my works".www.gennarts.com/
SERGEY GOLOSHAPOV, JERSEY CITY, NJ
Sergei Goloshapov, a Moscow born artist, has rocketed to the top echelon of traditional print makers and book illustrators during his senior years at Moscow Polygraph Institute, the renowned Russian art school. Many of the best 20th century avant-garde artists have taught there developing the glorious tradition of Constructivism, the rich early post revolution style in art and architecture.
During his years in Russia Sergei has produced a huge body of work including numerous book illustrations, etchings, paintings in oil, and works on paper.
In 1991 Sergei moved to New York where he continued to work on illustrated books for children (North-South Publishing). The most important were two outstanding books of Grimm Brother's tales. Later on he created a linocut print series for The Selected Short Stories of Honore de Balzac.
Recently Sergei was involved in (delete to) a major theater project -The Spiderman on Broadway – currently running at Foxwoods Theatre on 42nd Street in New York.
He was responsible for the entire cityscape rendering. Presently Sergei is back to his printmaking studio working on a new series of prints and mixed media drawings.
GRIGORY GUREVICH, JERSEY CITY, NJ
Grigory Gurevich – Sculptor, painter, photographer, graphic artist, printmaker, art book creator, and inventor – has had more than four hundred exhibitions in the United States and Europe and conducted hundreds of sculpture workshops in Italy, Denmark, Russia and the United States. His paintings, drawings, and sculptures have won numerous awards and are in public and private collections in Russia, Switzerland, France, Croatia, Germany, Slovakia and the United States. He has had his solo shows in Savitsky Museum in Penza city in Russia in July 2010 and August 2012 and many shows in the Museum of Russian Art in the United States.
He received a master's degree in art from Academy of Fine and Industrial Arts in Leningrad, Russia and was a professor at St. John's University, New York, and a faculty member of Newark School of Fine and Industrial Arts.
His bronze tableau of seven life-size figures entitled "The Commuters", sculpted in 1985, is permanently installed in Newark Penn Station. His bronze bust of Japanese-American Inventor Kazuo Hashimoto is installed in NJIT, Newark, NJ. His book "Reflections" features seventeen linocuts, etchings, and mixed media prints  has been included in the print collection of New York Public Library as well as the rare book collection of Newark Museum Library, Library of Saint Bonaventure University, and Print Collection of HERMITAGE MUSEUM in Leningrad, Russia. In April 1995 Mr. Gurevich was granted a patent on a new type of manifolding book, one of which" Numbers 1-10,10-1″, is in  collection at the Brooklyn Museum and two different kinds of books are in the collection of a library at Columbia University of Chicago.
.
In 2004 his pen and ink drawing "The Tree" had been accepted as a temporary loan to the Gallery of Geraldine R. Dodge Foundation.
His work won many awards and honorable mentions. His biography is published in "Who is Who in American Art", "WIKIPEDIA" and many magazines and newspapers and was shown on television shows in different European countries.. His sculpture "CLOWN" will be exhibited in March 2016 in Russian Museum, St. Petersburg, Russia.
ALEX AG, NY
Works Alex AG will be presenting in Spring 2016 MORA will be exploring the geometry of the big city. This series will be for the first time on public display.Alex AG was born in Moscow Russia and for the last two decades resides in New York.
This website is dedicated to panoramic photographs, which are digitally modified to reflect different concepts and illustrates altered point of view. The artist believes that ability to recognize the existence of alternative views of the world is a key to enjoying art and the future of the humanity in general.Alex's works intend to discover beauty and harmony in everything: from wild nature to urban scenery. Most of Alex AG works depict urban sceneries in large cities: New York, Istanbul, Bucharest, however, large part of the collections is vistas of nature, or single depiction of people, animals and non-animated objects.Another area to which artist is paying extremely close attention is methods of printing the artwork. Alex employs several processes, including printing on standard metal surfaces, custom print on materials such as leather, steel, stone… The separate area of Alex AG works is printing on transparent and semitransparent surfaces, including multi-layered prints on glass and prints on semiprecious stones, which require illumination for display.Since AG has decided to promote his art, his works have participated in a number of events, including exhibitions, concerts. His works are currently part of permanent exhibition at MORA museum. Alex has started and continues the Pop-Up Gallery events for artists in New York.www.OrbVista.com
ALEX KHOMSKI, BOSTON
Alex  Khomski  was born in Moscow, Russia. He graduated from Institute of Fine and Applied Arts named after Stroganoff. He also developed interest in the cutting edge contemporary art and was accepted in highly recognizable Union of Graphic Artists in Moscow.
His first most prestigious show was held in Bonn Germany, in Christian Democratic Party Headquarters in 1988 which was titled "Bonn –Moscow, Russian Vanguard Art"
and represented most important Russian vanguard artists such as Ilya Kabakov, Komar and Melamid and other well known vanguard artists from Russia.
Seeking artistic freedom Khomski moved to US in 1990. Since then he participated in more then 50 solo and group shows in US, Canada and Europe.
His art was reviewed in many publications such as Los Angeles Times and World Art News to name a few.
In 2013 he participated in important show of Russian art "Russian Pavilion" in New York, NY.
In 2014 his work was presented at the important museum show "The Diner is Served"  in Russian Museum, St. Petersburg, Russia.  This show was devoted to food and included many prominent Russian artists and sculptors from XIX century to now days.
He was awarded with Ukrainian order of St. Stanislaus along with Jacky Stallone, Franc Stallone, and other celebrities in 2011 in Los Angeles for his involvement in art and culture.
His paintings can be found in numerous museum, corporate and private collections around the world:
The State Tretyakov Gallery Moscow Russia;
The State Russian Museum St. Petersburg Russia;
State Eastern Museum Moscow Russia ;
Arhangelsk Museum, Arhangelsk Russia;
Zimmerli Museum of Art in New Brunswick, New Jersey;http://alkoms.com/
IRENE KOVAL, NY
Irene Koval, a Ukrainian artist originally from Odessa, was raised in a family of carnies (father was an engineer and performer for the circus and mother was a skilled acrobat) Irene worked in the circus as a child, performing acrobatic acts. Her childhood was as unusual as it was difficult, always moving to new places all over Russia as a part of the soviet circus lifestyle.
After graduating from circus institute and officially becoming a part of the soviet circus, Irene found herself greatly stimulated by her creativity. At this time, she was collecting a diversity of skill and technique from the various art classes she was attending in different parts of the Former Soviet Union as she was traveling all over the country with her circus.
Irene had a strong passion for the fine arts and theater. From 1983 to 1987 she attended the State Art Theatrical College in Odessa and became a property master puppeteer and art sculpture doll designer. After graduation, she was participating in numerous fine art exhibitions in Ukraine and Russia. In 1989 she fled the political oppression of her home country by immigrating to the United States and settling in New York to continue her pursuit of a career in art. In 1994 Irene graduated from Fashion Institute of Technology (FIT) as a textile and surface designer. She worked for different design studios but her love of the fine arts and theater never died.
Irene has been painting, constructing Dolls, and even assembling jewelry all her life. Her style and technique has transformed over the years but Irene always finds that most of all, her art is influenced by her experience as a circus performer.Personal Exhibition:
Museum of Russia Art (MoRA), Jersey City, NJ, 2014
Butterfly Gallery , Red Bank, NJ, 2011Group shows:
Winter Exhibition at MoRA, 2015
BWAC, Red Hook, NY, 2015
Midoma Gallery, NYC, 2015
Paul Fisher Gallery, West Palm Beach, FL, 2014
BWAC, Red Hook, NY, 2014
Russian Art Pavilion, SF, 2013
Russian Art Pavilion, NYC, 2013
Museum of Russian Art (MoRA), NJ, 2011www.saatchiart.com/irenekoval
www.artsicle.com/Irene-Koval
LARISA KUCHERENKO, MOSCOW, RUSSIA
Larisa Kucherenko was born in 1968 in Vladivostok. She graduated from Far Eastern State Technical University, Architectural Dept. Larisa is a member of PUA /the Professional Union of Artists/ and International Public Organization of Artists "Red Square". She is resident of Moscow, Russia.
For the past 8 years Larisa Kucherenko has participated in fourteen group exhibitions and four one-man shows around the world, including The Niche Gallery /Albany, NY/, Arden Gallery /Moscow, Russia/, Art Salon- 2013 at Moscow Central House of Artists, Russian Culture Center in Brussels /Belgium/, VI International Art Salon in France, HCMC Fine Arts Museum /Vietnam/, Exhibition City Hall at Venn Le Rose /Normand, France/.
Artist's paintings are in permanent collection of HCMC Fine Arts Museum /Ho Chi Minh, Vietnam/, Sate Museum of Orsk, and in private collections in US, France, and Russia.www.interartny.com
YELENA LEZHEN, NY
Yelena Lezhen was born in Kiev, the capital of Ukraine. She graduated Kiev Art Design College and worked as an art designer after graduation, but devoted most of my free time to painting and searching for artistic identity. Her family immigrated to the US in 1989 and settled down in New York. This city impressed her by its museums, exhibitions and diversity of cultures and art life. The city life and surrounding nature remains the source of her inspiration.
"Our human shapes, our curves, are the curves of stones, softened by millennium of turbulence; the curves of birds, our prehistoric cousins; the curves of horses, our proud servants for centuries. In my studio, located among forest treetops, I paint intuition and emotion of a humanity that so carelessly exhibits violence towards its earth and the creatures that inhabit it. I express my emotions and femininity, painting the curves of destruction and redemption that forcefully trumps the ambiguities, corruptions, and politics of scientific analysis".
www.lenazhenart.com
VIOLETTA LIVSHEN, NJ
Violetta Livshen was born in Odessa, Ukraine. Graduated from Ukraine's Academy of Art named after M.Grekov with master degree in Fine Art and Architecture. From 1989 Violetta Livshen lives in United States.
In 1992 she graduated from French Fashion Academy. From 1992 to 1999 she worked as a designer in Fashion Company and from 2000 Interior Designer in Magic interior. In 2006 – Host and Designer in TV project "Magic Interior".   My figurative work is intended to reveal both physical space and mental places. It deals with the complexities of thoughts, ideas, feelings, and emotions that get compartmentalized. My images use lines and shapes to symbolize containers our bodies are placed in from conception to eternity. There is a hint at the landscape to ground the figure in space.
My figures are searchers, looking for ways to be at ease in their own skin. Painting from an intuitive place will often take me into the unexpected, where shapes, colors, marks, and lines take on a life of their own, revealing mysteries to ponder and reflect on. If my works reach out, touching a viewer, inviting them in to share this journey, I feel my paintings have taken root, and the connection between me and the viewer becomes a tender place.
www.artvioletta.com
www.violalivartgallery.com
VIKTOR MILOSLAVSKY, NY
Viktor Miloslavsky is an award-winning full-time professional photographer based in New York City. He displays an impressive array of variance in his editorial and commercial works, but also breathes life into inanimate concepts and ideas through his creative art photography.
As an art photographer, Viktor takes pictures of popular subjects, but adds his own artistic twist. This allows for each and every single one of his images to bear a unique signature touch. His talent and ability is especially evident when he transforms old-fashioned images, such as the iconic martini cocktail, into modern works of art. After all, "The martini is the supreme American gift to world culture," as written by Bernard DeVoto. What Viktor does in his "Martini" series is undermine this glamorous, sophisticated and expensive drink of celebrated reputation. A drink that is associated with impeccably refined people like Frank Sinatra, F. Scott Fitzgerald and of course, James Bond, becomes much more modern, bold and raw in Viktor's series. This is only one example of Viktor's ability to mirror the erratic pulse of a contemporary New York lifestyle in his art. In his "Baroque" series, Viktor creates atmospheric shortcuts commonly associated with a vibrant bar setting. In doing so, he brings basic items like wine glasses and bottles to life. Both Viktor's commercial photography and art photography works display his unique and intriguing style; his skills and abilities speak for themselves and allow for Viktor to distinguish himself with ease and confidence.www.vmphotography.com
EMIL SILBERMAN, NY
Emil Silberman. When I enter my studio, I enter a different world of subconscious feelings, new forms and emotions that cannot be expressed in any other way. Capturing this reality is my challenge as an artist.
I grew up in Latvia during the Soviet era. I always knew that I was born to be an artist but by a strange turn of fate, I also became a physician. I chose Emergency Medicine as my specialty and have been working in a busy inner city ER for many years. For a long time I kept the two worlds separated. Then one day I realized that I was streaming ideas from my medical work into my art and the two worlds started to came together. The drama and intensity of emotions in the ER are probably unmatched in any other work environment.
The medical literature reports that a large proportion of ED visits are behavioral and psychiatric in nature.  Such patients are most interesting to an artist interested in exploring the human condition and psyche. The facial expressions and forms of the human body distorted by pain and disease provide me with an endless source of ideas and inspiration.
I have been greatly influenced by classical Russian art and its emphasis on highly emotional content, subtle story telling and hidden meaning. Artists like Repin, Perov, Surikov, Antakolsky and many others made a lasting impression on me from an early age. Later influences include artists like Modigliani, Otto Dix and the German Expressionists, and Kabakov. Although I have no formal art education, I have pursued my study of art through all available venues, and in the process have acquired knowledge of the techniques and materials that seem best suited to my ideas.
For many years I would not disclose my unique situation out of fear that it would distort the viewer's perspective, but I now realize that it is hard to understand my art without it. On reflection I also see that my subject matter has shifted over the years from pain and death to satire, social commentary and other less lighter themes. I tend to use my art to express the many ironies of life. My attitude may sometimes even be interpreted as facetious. I can use my artwork to make light of some very serious issues in society, as I see it today. This satirical style allows me to express my frustrations with society in a humorous manner. www.expressionistsculpture.com
EKATERINA VASYUCHKOVA, MOSCOW, RUSSIA
Ekaterina Vasyuchkova was born in 1963 in Moscow. She graduated from Moscow Medical School named after N.I. Pirogov. Since 2007 Ekaterina independently has studied fine art and painting techniques. Since 2010 she is attending the master-classes of the International Public Organization of Artists "Solar Square". She is a member of PUA /the Professional Union of Artists/ and IPOA "Red Square".
For the past 10 years Ekaterina Vasyuchkova has participated in sixteen group exhibitions and five one-man shows around the world, including Art Salon-2012, 2013, 2014 at Moscow Central House of Artists, Russian Culture Center in Brussels /Belgium/, VI International Art Salon in France, HCMC Fine Arts Museum /Vietnam/. In 2015 Ekaterina became a winner /Third prize/ of the Juried exhibit of art "Roman Art Week".
Artist's paintings are in permanent collection of HCMC Fine Arts Museum /Ho Chi Minh, Vietnam/ and in private collections in US, Canada, Russia, Ukraine, and Belarus. Since 2013 Ekaterina Vasyuchkova is occupied himself with teaching of painting in the art studios "Sunny Square", "Our Arbat" and "Dresden".www.interartny.com
DMITRY YAKOVIN, ST. PETERSBURG, RUSSIA
Dmitry Yakovin was born in 1969 in Vladivostok. He graduated from Russian Academy of Fine Art named after Ilya Repin /St. Petersburg/, Graphics Dept. In 1992 Dmitry graduated from Academy of Fine Art in West Berlin, Germany with Master Degree in Fine Art. Since 1992 he is a member of the Russian Society of Art.
For the past 15 years Dmitry Yakovin has participated in more than forty-five group exhibitions and more than thirty one-man shows around the world, including New York Art EXPO-2002, 2003, 2006, 2007, 2010; Art Atlanta-2003; Art Philadelphia-2004. In 1999 Dmitry became a winner /Third prize/ of the Juried exhibit of art from around the world – Williamsburg Art & Historical Center. Brooklyn, NY. In 2002, 2003, 2005, and in 2007 he had won a privilege to participate in an Annual Exhibition of Society for Art of Imagination, London, UK.
Dmitry Yakovin's paintings have been exclusively represented in US and Canada: France, Spain, Italy, and UK.
"Dali's arid landscapes loom large in the surrealist fairy tales created by Dmitry Yakovin, suggesting Alice in Wonderland displaced to the distant future . . ." /Anna Rohleder, staff writer Forbes.com, NewsDAY, Long Island, 2002/.
"Strange creatures and although both men work in the same surreal genre, Yakovin's paintings are peopled by strange creatures and animals, somewhat rotund but often easily understood, even though they are transformed into a different reality . . ." /Mila Andre, Daily News staff writer, New York City, 2003/.
"After an analysis of Dmitry Yakovin's work, which most directly fits into the rubric of surrealistic expression, one can conclude that even after the complex process of psychological refraction, they attract the audiences' eyes as if by a magical power…" / Svetlana Vais, Art Director & METRO staff writer, Chelsea, NY 2004/.www.interartny.com