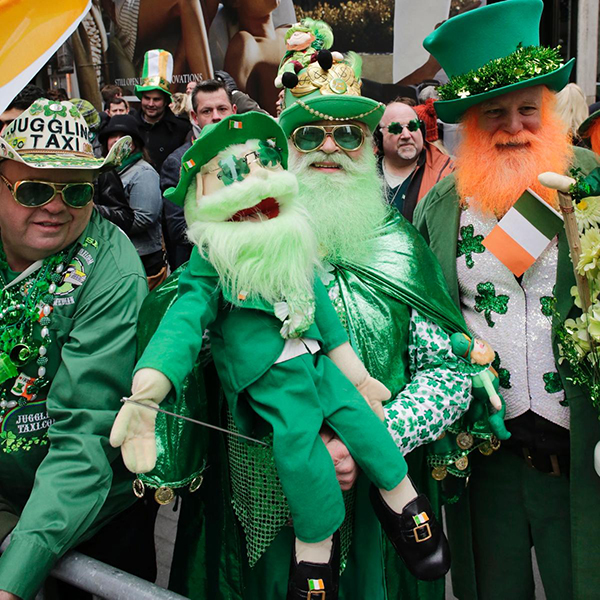 Март, – значит весна, хоть зимы в этом году так и не случилось, но все равно приятно, что впереди больше солнца, больше света, больше зелени. Что-что, а зелень в марте, а Нью-Йорке гарантирована, ведь 17 марта – День Святого Патрика, самый зеленый праздник из всех. Не пропустите любимый нью-йоркский парад на 6 авеню, самый веселый, бравый и касочный.
Погода сейчас так непредсказуема, что вполне возможны поздние снегопады или густые туманы, но все равно… это не всерьез и не на долго – ибо, помните:
… Я уже слышал, и слух этот вами проверен,
Будто бы в роще сегодня звенела свирель.
– Что же из этого следует?
– Следует жить,
Шить сарафаны и легкие платья из ситца.
– Вы полагаете, всё это будет носиться?
– Я полагаю, что всё это следует шить!
Следует шить, ибо сколько зиме не кружить,
Не долговечна её кабала и опала…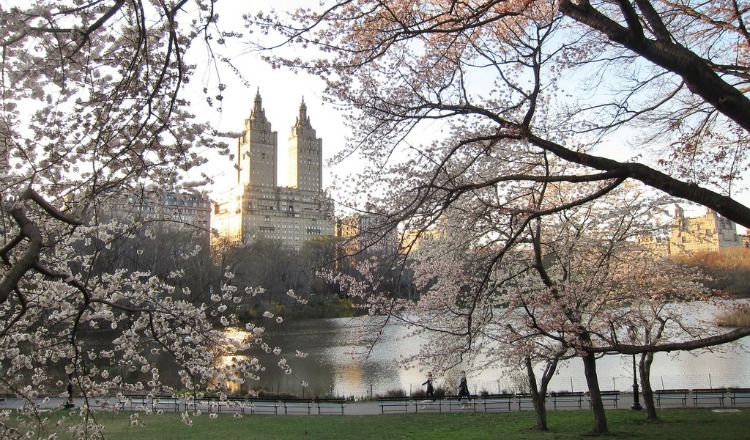 Так что, «весна грядет, весне дорогу», но это совсем из другого произведения, но направление верное, готовимся к весне: отправляемся в джим, садимся на диету, думаем о модных трендах, ищем вдохновения в прекрасном. А прекрасного в марте в Нью-Йорке много: шоколадное и аэропланное шоу, причем вместе! Фестиваль виски, пива, коктейлей, вина, фламенко и французского кино, причем все по отдельности! Конференция котолюбов, что понятно – март месяц котов и кошек. Выставки цветов и орхидей. Итальянская опера и художественные и фотографические выставки, причем, очень высокого класса, как, к примеру, Scope New York (2-5 марта) или AIPAD на Pier 94. И много-много другое, о чем читайте в нашей Афише и берите себе на заметку.
Начнем мы нашу Афишу с самого важного для нас вечера: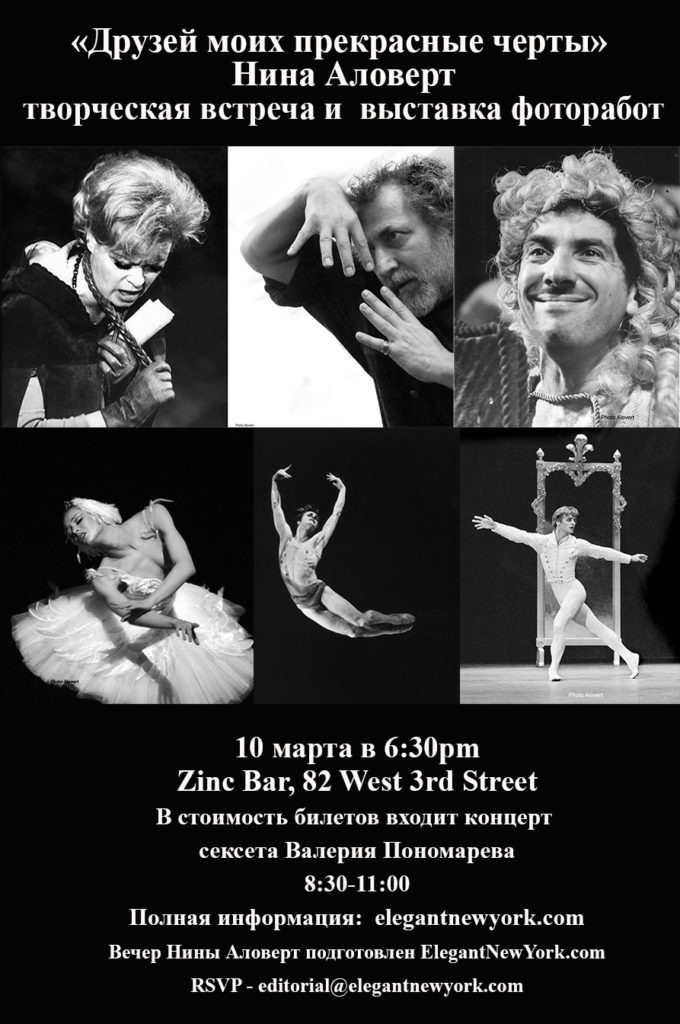 А теперь, по порядку:
Whisky tasting
March 1, 2017 (6 p.m., VIP 5:30) A ticket to Whisky Live includes a dinner buffet, live entertainment, and a glass to sample the greatest whiskies in the world at Pier 60, Chelsea Piers. Discount tickets $99.
Beer tasting
March 1, 2017 (6 to 9:30 p.m.) Taste 40 beers and meet the brewers at NYC Brewer's Choice at 1 University Plaza in Brooklyn for age 21+.
Murder mystery
March 1 – 5, 2017 (also Feb.) Interview is mega-hit psycho thriller musical from Korea and Japan investigating a crime in the Theatre at St. Clement's. Discount tickets $20.
Fringe theater festival
March 1 – 5, 2017 (begins Feb. 15) Since participants are chosen by lottery, you never know what to expect at Frigid New York, which has 30 affordable shows at two East Village theaters. Scroll down their page to see all shows.
French film festival
March 1 – 12, 2017 See the best of contemporary French films, including premieres, plus panel discussions at Rendez-Vous with French Cinema. All films have English subtitles.
Star-studded drama
March 1 – 19, 2017 (also Feb.) "Cate Blanchett and Richard Roxburgh's chemistry is electrifying" [The Guardian] in The Present a tale of unresolved relationships, desire, denial, and regret at Barrymore Theatre. Discount tickets $59 to $159.
Orchid Show
March 1 – April 9, 2017 (begins Feb. 18) The Orchid Show fills the conservatory at the New York Botanical Garden with thousands of orchids in an amazing array of colors, shapes, sizes, and textures. Discount weekday tickets $15.
Charming musical
March 1 – April 30, 2017 (also Feb.) The Fantasticks is a funny and romantic musical entertaining audiences for years, in intimate Anne Bernstein Theater. Discount tickets $38.
Cocktails & food
March 2, 2017 (6 to 9 p.m.) Good Spirits pairs fine spirits with local restaurant food to delight your taste buds, for age 21+ at Pier A Harbor House.
Modern art show
March 2 – 5, 2017  See contemporary art from the world's leading galleries at The Armory Show at Piers 92 & 94.
Outdoor sport show
March 2 – 5, 2017  World Fishing & Outdoor Expo is all about fishing, hunting, and outdoor activities. See large-mouth bass in a giant tank, hear expert speakers, and visit 250 exhibitors at Rockland Community College in Suffern.
Cocktail show
March 2 – 31, 2017 (also Feb.) A ticket to The Imbible includes 3 craft cocktails plus a comic romp through the history of spirits and cocktails at New World Stages. Discount tickets $49.
Independent art fair
March 3 – 5, 2017 (reception March 2) Clio Art Fair is a curated fair in Chelsea featuring artists without exclusive gallery representation. Free.
Art on Paper
March 3 – 5, 2017 (preview March 2)  Art on Paper features galleries exhibiting drawings, paintings, photography, and even sculpture incorporating paper at Pier 36. Discount tickets $10.
Whiskey Walk
March 4, 2017 (noon)  Taste 8 premium whiskeys with snacks on the Whiskey Walk, which begins at Slainte Bar and includes 8 Manhattan bars. Discount tickets $35.
St. Patrick's Parade – Queens
March 4, 2017 (1 p.m.)  Queens County St. Patrick's Day Parade is a lively local parade with bagpipes, marching bands, dancing kids, and fire trucks, which begins at Newport Ave. and Beach 130th Street in Rockaway Beach. Free.
Orchid Show – evening
March 4 – April 8, 2017 Wander through the Orchid Show at the New York Botanical Garden, buy a cocktail, and hear romantic music playing on Orchid Evenings for age 21+. Open March 4, 11, 18, 25, (31 LGBT); April 1, 7, 8. Discount tickets $34.
Wine tasting
March 7, 2017 (6 to 8 p.m.) Taste wine from dozens of wineries with appetizers, and meet the winemakers at NY Drinks NY Grand Tasting at The Altman Building.
Italian opera
March 7 – April 14, 2017 La Traviata is a bittersweet love story by Verdi at the Metropolitan Opera House. Discount tickets $72 – $98.
American modern dance
March 8 – 26, 2017 Paul Taylor's American Modern Dance features a live orchestra with a mix of world premieres and classic works at Lincoln Center. Discount tickets $21 to $179.
Flamenco Festival
March 9 – 12, 2017 Flamenco Festival features an all-star lineup of contemporary dance innovators and members of legendary flamenco dynasties at New York City Center. Discount tickets $38.
Cat conference
March 11 – 12, 2017 Cat lovers are invited to Cat Camp to shop from vendors, meet adoptable cats, learn about cats, and "discuss some of the most important and challenging problems facing cats today" at Metropolitan Pavilion.
Patrick's Day pub crawls
March 16 – 18, 2017 Saint Paddy's PubCrawl offers drink specials at bars in the East Village.
Design show
March 17 – 19, 2017 (VIP on March 16) Find inspiration for home improvement, shop for home products, and attend design seminars at the Architectural Digest Home Design Show at Pier 94. Discount tickets $15.
St. Patrick's Day parade
March 17, 2017 (11 a.m. to 5 p.m.) Billed as the world's oldest and largest St. Patrick's parade, New York City Saint Patrick's Day Parade celebrates Irish culture and the Catholic faith on 5th Avenue from 44th to 79th. No alcohol or pets. Free.
St. Patrick's Day festival
March 17, 2017 (4 to 7 p.m.) Sober St. Patrick's Day offers traditional Irish music, dance, song, and comedy for all ages without alcohol at 268 Mulberry Street.
Jazz musical
March 18 & 25, 2017 (7 p.m.) Hear rowdy, humorous songs by Fats Waller from the early days of jazz at Ain't Misbehavin' at Harlem Repertory Theatre.
Flower show
March 26 – April 9, 2017  See spectacular arrangements of flowers from around the world and attend scheduled events at Macy's Flower Show on Herald Square. You can hear a recorded message at 212-494-4495 extension 1. Free.
French film festival
March 27 – April 2, 2017  Focus on French Cinema features screenings of French films, receptions, parties, and actor & director Q&As.
March 27 – Stamford, CT
March 28 to 30 – Manhattan, NY
March 31 to April 2 – Greenwich, CT
Photography show
March 30 – April 2, 2017 The Photography Show by AIPAD exhibits museum-quality work from 110 galleries at Pier 94.
Affordable Art Fair
March 30 – April 2, 2017 (preview March 29) Browse contemporary paintings, prints, sculptures, and photographs from 80 galleries at the Affordable Art Fair, with workshops and activities at the Metropolitan Pavilion in Chelsea. Repeats in Sept.
Latin American film festival
March 30 – April 7, 2017
Havana Film Festival New York shows 40 full-length feature films, documentaries, shorts, animation, and classics from Latin America with English subtitles.
Wine tasting
March 31, 2017 (6 to 10 p.m.) Taste 90 wines with food and desserts at the Wine Tasting to support Hudson County CASA on the waterfront at Batello in Jersey City, NJ.
Смотрите на мир в марте через зеленые очки!