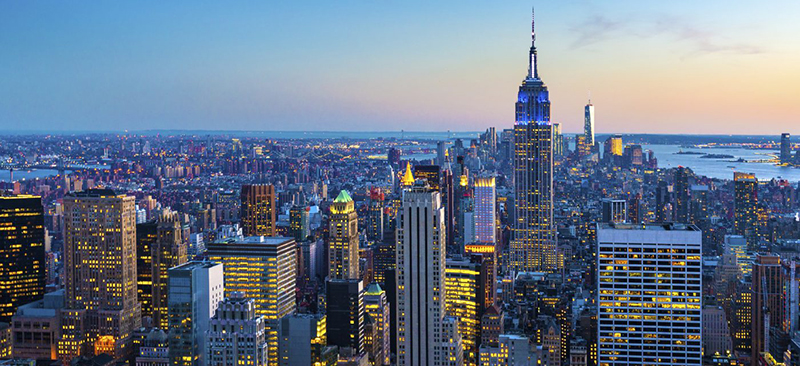 С наступившим Новым Годом, дорогие друзья!
Достойно встретили, отметили, отгуляли, отвеселились, с чем мы вас и поздравляем, и предлагаем так держать и дальше! Конечно новый год наступает лишь однажды, но длится он 365 дней, а 2016 и того больше 366 – это же високосный год! Значит и возможностей, чтобы провести год с удовольствием и пользой у нас всех будет еще больше чем обычно. Тем более в Нью-Йорке.
Нью-Йорк в январе, совсем не плох, а для знатоков и ценителей, тем более – им то известно, как по-настоящему можно насладится январем.
Итак, в январе в магазинах происходят самые впечатляющие в году распродажи – не пропустите 75-80% скидки. Тоже самое, ну может быть не столь щедро, происходит и в театрах, – туристов меньше – цены ниже. С погодой, как повезет, можете увидеть зиму, а можете и нет, но по паркам погулять все равно стоит: катки работаю, кареты, запряженные лошадками могут быть не столь дорогими как в декабре, кафе открыты, воздух свежий, солнышко светит. Деревья стоят без листьев, а это значит фасады домов хорошо видны, можно рассматривать и наслаждаться городской архитектурой в полное свое удовольствие, тем более толпы туристов рассеялись и вы не рискуете столкнуться с кем-то, гуляя по городу со слишком высоко поднятой головой.
И в остальном, тоже все в порядке: ярмарки, шоу, фестивали, премьеры, выставки, главное не забыть что, где и когда  и успеть везде побывать.
Ну, а если хотите поразвлечься на другой манер – добро пожаловать в метро. 10 января снова намечается день Поездок без штанов, не пропустите если еще не видели, и будьте посмелей, если вдруг решили принять участие в этом, достаточно массовом городском мероприятии.
Poetry marathon
January 1, 2016
Hear 140 poets read works from 2 p.m. until after midnight at New Year's Day Marathon Benefit Readingat St. Mark's Church in-the Bowery.
Holiday cocktail show
January 1 – 2, 2016
The three Christmas Spirits teach Scrooge how to make cocktails and give each audience member three cocktails at The Imbible: Christmas Carol Cocktails at Elektra Theatre. Discount tickets $38.
Winter in Bryant Park
January 1 – 3, 2016
Winter Village at Bryant Park has 125 holiday kiosk shops, an ice-skating rink open until March 6, and aTree Lighting Skate-tacular on Dec. 1. Free unless you rent skates.
Holiday Train Show
January 1 – 18, 2016 (also Dec.)
Watch model trains zip around miniature New York landmarks made of plant materials, and enjoy kids' activities at the Holiday Train Show at the New York Botanical Garden. Closed Nov. 23, 26, 30; Dec. 7, 25. Discount tickets $11 to $25.
Jazz brunch on a yacht
January 1 – March 6, 2016
Enjoy a buffet, live jazz, and two hours of views on the Sunday Jazz Brunch Cruise by Hornblower Yachts, departing from Pier 40.
Discount tickets $57, child 
Blue Man show
January 1 – June 26, 2016
Blue Man Group is back with a new stage show that combines comedy, art, science, visual effects, and music at Astor Place Theatre. Discount tickets $65.
Daily tree lighting
January 2 – 6, 2016
Watch the lighting ceremony for a Christmas tree adorned with 18th-century Neapolitan angels and cherubs at the Christmas Tree and Neapolitan Baroque Crèche in The Metropolitan Museum of Art at 4:30 p.m. (plus 5:30 & 6:30 p.m. on Fri. and Sat.).
Cocktails at the train show
January 2 – 16, 2016 (see dates below)
Sip a cocktail under holiday lights; see model trains circle a miniature New York; and watch ice carvers atBar Car Nights at the Holiday Train Show at the New York Botanical Garden for age 21+. Open 7 to 10 p.m. on Nov. 21; Dec. 4, 5, 18, 19; Jan. 2, 8, 9, 15, 16. Discount tickets $27.
Magic show
January 4 – Feb. 15, 2016 (Mondays)
Five professional magicians perform card tricks and feats of wonder with plenty of humor at Monday Night Magic in cozy Players Theatre. Discount tickets $9 to $40.
Star Wars exhibition
January 4 – March 31, 2016
See 77 costumes worn in all seven films at Star Wars and the Power of Costume at Discovery Times Square.
Discount tickets $28.
Three kings parade
January 6, 2016 (11 a.m. to 12:30 p.m.)
Children wearing crowns join real camels, sheep, a donkey, colorful puppets, musicians, and community leaders dressed as kings in the festive Three Kings Day Parade and Celebration in East Harlem. Free.
Opera
January 6 – May 5, 2016 (also Nov./Dec.)
La Bohème is Puccini's story of youth, loss, and love, set in the Latin Quarter of Paris at the Metropolitan Opera House. Discount tickets $64 to $192.
Alternative wedding show
January 9, 2016 (11 a.m. to 3 p.m.)
Find vendors of handmade items and innovative services for unique weddings at Lovesick, plus fashion makeovers, neo-burlesque performances, live music, and a bar in Brooklyn.
No pants on the subway
January 10, 2016. Liven up winter by joining thousands who follow the instructions for taking a No Pants Subway Ride. Free.
French casserole cook-off
January 10, 2016 (12 to 3 p.m.)
Taste competing chefs' versions of this slow-cooked casserole from the south of France made with meat and beans at Cassoulet Cook-Off at Jimmy's No. 43.
Basketball
January 10 – Feb. 9, 2016
The New York Knicks play at Madison Square Garden.
Discount tickets $50 to $90.
10 – Milwaukee Bucks
2 – Boston Celtics
5 – Memphis Grizzlies
9 – Washington Wizards
Jazz festival
January 13 – 17, 2016
NYC locations
Winter Jazzfest includes 100 groups playing at 11 venues in the Village. Buy a day or weekend pass.
Beer and whiskey tasting
January 16, 2016
Sample beer and whiskey with live entertainment (burlesque, jazz, circus) and food for sale at East Ville Des Folies – Acte Trois in Webster Hall.
Restaurant Week
January 18 – Feb. 5, 2016
Get a special deal on a 3-course lunch or dinner at 300 restaurants during NYC Restaurant Week, not on Saturdays
Broadway discount week
January 19 – Feb. 5, 2016
Get 2-for-1 deals on select theater shows duringBroadway Week. Repeats in Sept.
Ceramics show
January 21 – 24, 2016 (preview Jan. 20)
New York Ceramics & Glass Fair features exhibits by 30 galleries at Bohemian National Hall.
Odd art
January 21 – 24, 2016
Outsider Art Fair shows self-taught art created outside the mainstream at Metropolitan Pavilion. See photos.
Dance festival
January 21 – 30, 2016
FLICfest (Feature-Length Independent Choreography)is a festival of feature-length dance, with complete works by six choreographers, plus informal late-night cabarets, at Fort Greene in Brooklyn.
Antiques show
January 22 – 31, 2016 (party Jan. 21)
View and purchase exceptional antiques ranging from ancient Roman glass to mid-century modern from 73 exhibitors at the Winter Antiques Show at the Park Avenue Armory. No baby strollers on weekends.
Film festival
January 22 – 31, 2016
The Bronx International Film Festival screens local and international films at Lehman College.
Pinot Noir tasting
January 23, 2016
Taste 100 pinots from 35 producers on Sunday atNew York City Pinot Days at City Winery on Varick Street.
Wild films
January 28 – 30, 2016
New York Wild Film Festival shows 20 films about wildlife and wild places at The Explorers Club.