Svetlana & the Delancey Five at Joe's Pub

Sat Mar 4, 9:30PM

!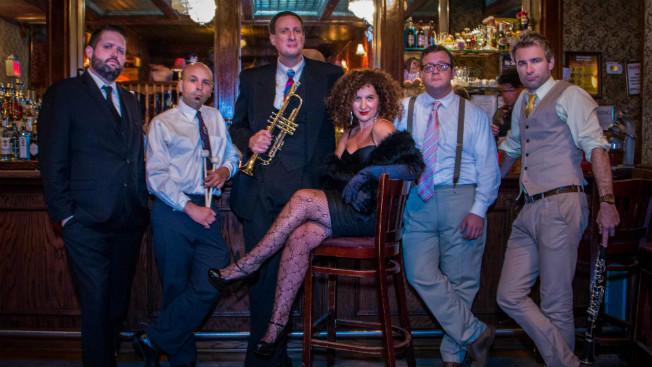 Svetlana is "Breakfast at Tiffany's served at the 21st Century Speakeasy" (Allan Young, New York Music Daily), "Exceptional vocalist and songwriter" (Will Frieldwald, Wall Street Journal), "Making Hot Jazz sound cool!" (BlueMonkMoods)
"Prepare to swing and be moved!" (JazzLives) and experience the "sweet and naughty" (JazzLives) magic in this special show celebrating Spring! Swing! (and Svetlana's birthday!) – and feel your pulse quicken and your hearts thaw out from the winter blues!  Svetlana & The Delancey Five will transport you to the carnival of sound, seamlessly moving from sophisticated tender tones to a rowdy "exuberant, foot-stomping music combining swing and pop-singer/songwriter sensibilities" (WPIX11TV) fit for the 21st Century!
The Svetlana & The Delancey Five has headlined many sold-out shows in the US, from the premier venues such as the Blue Note, Iridium, Joe's Pub, to the packed and sweaty underground New York speakeasies, and the Times Square Swing Flashmobs where "the crowd of revelers" (Time Out NY) gyrated together to the band's jubilant playing!  The band has also toured internationally, appeared on various national and international TV programs (US, UK, Israel, Russia, Germany, Japan, Brazil and more) and has been featured in numerous news and music publications (Huffington Post, All About Jazz, Wall Street Journal, PopWrapper, and more). Band's record Night at the Speakeasy (produced by Guy Eckstine and featuring Wycliffe Gordon) has premiered among the "most added" on JazzWeek and CMJ Jazz Radio charts, received a 4-star rating from AllAboutJazz, and gathered accolades as "The Best of 2016" on Classicalite Music news site.