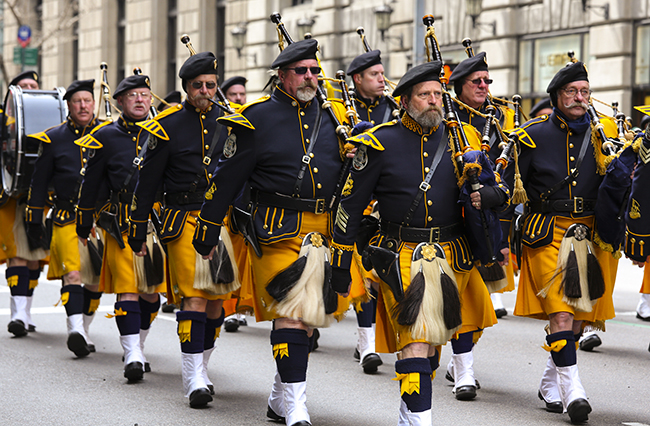 [al2fb_like_button]
[box][quote]Скажу вам по секрету, – март один из самых любимых месяцев в Нью-Йорке. И, даже, не по тому что в воздухе «пахнет весной». Тем более, что в Нью-Йорке, как правило, в марте «весной и не пахнет»… А по тому, что 17 марта на Пятой авеню происходит Парад в честь Дня Святого Патрика. Великолепный парад, праздничная атмосфера, веселая публика вокруг и город переливающийся всеми оттенками изумрудного! Не пропустите этот день, побывайте на параде или, хотя бы, в ирландском пабе, даже если у вас много дел, а на улице метет снег.[/quote][/box]
Нетрудно догадаться, что если в середине месяца – Saint Patrick Day, то 1 марта начинается и длится до 20 марта «Пивная неделя».  Да, такая длинная, в 21 день, «ирландская пивная неделя» …. А как только она заканчивается – 21 марта начинается пивной фестиваль. Так что, для любителей этого напитка, март месяц особенный.
Но и для тех, кто не является фанатом ирландских парадов и пивных утех найдется чем заняться в Нью-Йорке в первый месяц весны.  Например, побывать на нескольких кинофестивалях и представлениях французской оперы, посмотреть лучшие бродвейские мюзиклы, комедии, шоу и отметиться в цирке. Наслаждайтесь этими удовольствиями – в апреле природа позовёт вас к себе, и вы можете сожалеть об упущенных театральных возможностях марта.
Не забудьте о знаменитой нью-йоркской неделе Фламенко в City Center. И о том, что на протяжении всего месяца будет длится Выставка орхидей.
Также напомним, что 4 марта в Zinc Bar состояться программа "Ода джазу" –, посвященную его 120-летию Леонида Утесова и 100-летию со дня рождения его дочери, Эдит Утёсовой, а затем джазовый концерт Валерия Пономарева. Подробности можно узнать здесь.
Об остальном, читайте в нашей Афише, где вы всегда найдете что-то новое и интересное. 
Beer week. March 1, 2015 (begins Feb. 20) New York City Beer Week celebrates craft beer with events at multiple locations.
Award-winning drama. March 1, 2015 (also Feb.) Disgraced is a play "about the stories we tell our friends, the secrets we tell our lovers, and the lies we tell ourselves" at Lyceum Theatre. Discount tickets from Goldstar and LivingSocial.
Ballet. March 1, 2015 (also Feb.) New York City Ballet performs two works by George Balanchine in  All Balanchine III: The Sights & Sounds of Italy at Lincoln Center.  Discount tickets.
Unusual film festival. March 1, 2015 (begins Feb. 20) See at least 20 rare and underrated films of all kinds at Film Comment Selects at Walter Read Theater.
Kinky film festival. March 1, 2015 (begins Feb. 24)  CineKink shows films and videos that celebrate and explore a wide diversity of sexuality at Anthology Film Archives. It also offers panel discussions, audience choice awards, a kick-off party, and an  Chocolate & airplanes. March 1, 2015
Chocolate Expo offers tastings & sales of chocolates, baked goods, specialty foods, gelato, and wine at the Cradle of Aviation Museum on Long Island, and your ticket includes museum admission.
Circus. March 1, 2015 (begins Feb. 19) Ringling Bros. and Barnum & Bailey: Circus Xtremehas spectacular acrobats, animals, music, and dance at Barclays Center in Brooklyn. (Additional dates for Uniondale, Newark, NJ, and E. Rutherford, NJ.)
Restaurant Week. March 1 – 6, 2015 (starts Feb. 16; not Sat.) Get a special deal on a three-course lunch or dinner at 300 restaurants during NYC Restaurant Week – scroll down to see restaurants. Repeats in July.
Star-studded comedy. March 1 – 29, 2015 (also Feb.) Matthew Broderick and Martin Short star in It's Only a Play, a sharp satire about the business of big-budget theater at the Jacobs Theatre. Discount tickets.
Orchid Show. March 1 – 31, 2015 (Feb. 28 – April 19)  The Orchid Show fills the conservatory at The New York Botanical Garden with thousands of orchids in an amazing array of colors, shapes, sizes, and textures. Romantic Orchid Evenings add music and cocktails. Discount show tickets.
Gothic musical. March 1 – May 31, 2015 (also Feb.)
Nevermore: The Imaginary Life & Mysterious Death of Edgar Allan Poe is a stylish show using haunting music, poetic storytelling, and stunning stagecraft to tell the fascinating, gloomy story of author Edgar Allan Poe at New World Stages. Discount tickets.
Popular musical. March 1 – June 28, 2015 (also Feb) The Fantasticks is a funny and romantic musical entertaining audiences since 1960, at intimate Snapple Theater in Times Square. Discount tickets.
Tony winning musical. March 1 – Aug. 30, 2015 (also Feb.)  Matilda the Musical, by Roald Dahl, is about a girl who dares to take a stand and change her own destiny, at the Shubert Theatre. Discount tickets.
Blue Man show. March 1 – Sept. 27, 2015 (also Feb.)  Blue Man Group is back with a new stage show that combines comedy, art, and science with visual effects and music at Astor Place Theatre. Discount tickets.
Award-winning show. March 1 – Dec. 31, 2015 (also Feb.) STOMP has high-energy dance, acrobatics, comedy, and nonstop rhythym from unusual instruments at the Orpheum Theatre. Discount tickets.
Poker tournament. March 4, 2015.  Play poker to support charity at the Texas Hold 'Em Fundraiser at Stout on West 33rd St.
Flamenco show. March 4 – 7, 2015. Watch 15 Spanish dancers perform traditional flamenco with a vibrant contemporary edge at  Ballet Flamenco Sara Baras at New York City Center.
Modern art show. March 5 – 8, 2015. See contemporary art from the world's leading galleries at The Armory Show at Piers 92 & 94.
French opera. March 5 – 21, 2015 (also Feb.) A young French poet pines after a prima donna and recalls lost loves in Les Contes d'Hoffmann at the Metropolitan Opera House. Discount tickets.
Shakespeare comedy. March 6 – 7, 2015 (also Feb.) Twelfth Night is a gender-bending comedy about mistaken identity, unrequited love, and romantic mischief at Players Theatre. Discount tickets.
Student fashion show. March 7 – 8, 2015. Fusion Fashion Show pits 16 undergraduate designers from the Fashion Institute of Technology and Parsons The New School for Design against each other as they each send five looks down the runway.
French film festival. March 7 – 12, 2015. See the best of contemporary French films, including premieres, at Rendez-Vous with French Cinema.
Romeo and Juliet ballet. March 15, 2015 (4 p.m.) Moscow Festival Ballet performs Tchaikovsky'sRomeo and Juliet about star-crossed lovers at Lehman Center for the Performing Arts CUNY. Discount tickets.
St. Patrick's Day parade. March 17, 2015 (11 a.m.) Billed as the world's oldest and largest parade, New York City Saint Patrick's Day Parade celebrates Irish culture and the Catholic faith on 5th Avenue. Free.
New directors film festival. March 18 – 29, 2015. See the work of emerging or not-yet-established international filmmakers at New Directors/New Filmsat Lincoln Center and the Museum of Modern Art.
Home design show. March 19 – 22, 2015. Find inspiration for home improvement, shop for home products, and attend design seminars atArchitectural Digest Home Design Show, Piers 92/94.
Craft beer festival. March 21, 2015. Sample two-ounce samples of 100 U.S. craft brews at the Spring Craft Beer Festival at Nassau Veterans Memorial Coliseum in Uniondale. Requires age 21 ID.
Coffee and tea festival. March 21 – 22, 2015. Taste tea and coffee, eat sweet and savory foods, and attend seminars at the Coffee & Tea Festival NYC at Brooklyn Expo Center.
Flower show. March 22 – April 4, 2015
See spectacular arrangements of flowers from around the world and attend scheduled events at Macy's Flower Show at Macy's Herald Square. Free.
Wine festival. March 27 – 28, 2015. Choose from 250 wines to taste at Wine Riot, and track your favorites on the free mobile app, at 69th Regiment Armory on Lexington Ave. Repeats in Sept.
French film festival. March 27 – 31, 2015. Focus on French Cinema has French films and special events with actors and directors at Bow Tie Criterion Cinemas in Greenwich, CT (March 27-29), and French Institute Alliance Francaise in NYC (March 30-31).
Antiques sale. March 28 – 29, 2015. Pier Antique Show includes 500 vendors of classical and formal antiques, Americana and decorative arts, and 20th Century modern at Pier 94. Repeats Nov.