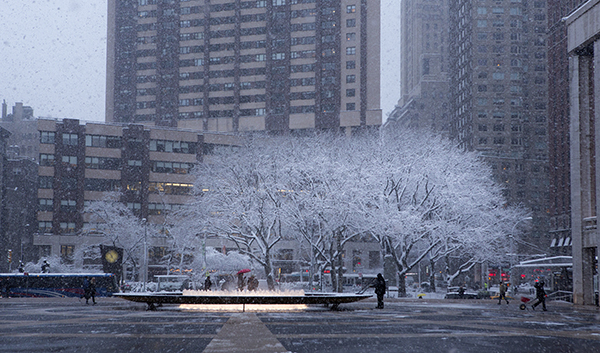 [al2fb_like_button]
[quote style="boxed"]Если кто-то думает, что после праздничного сезона в Нью-Йорке наступает затишье,  он глубоко заблуждается. В январе Нью-Йорк распрямляет крылья, немного помятые новогодним нашествием туристов, и взмывает в высь интеллектуальных, культурных и вкусовых удовольствий. Присоединяйтесь, не пожалеете. В январе проходит множество всевозможных «тестингов»: еды, пива, виски, вина; арт-выставки и аукционы, премьеры, фестивали и концерты. Причем все самого изысканного вкуса и высшего качества.
Хотя, если быть до конца откровенным, нью-йоркцы в январе любят и пошалить. Так начиная с 2002 года в январе проходит «День Поездки в метро без штанов». Причем, с каждым годом любителей превозмочь свою и чужую скованность и застенчивость, и в тоже время немного повеселить и шокировать публику, становится все больше. Покатайтесь в метро 11 января в штанах или без, и вы получите свежие впечатления и немного развеете зимнюю хандру.[/quote]
Итак, в этом году "Бесштанное мероприятие" стартует 11 января в 3 часа дня. Участники встречаются в одном из указанных на сайте мест. Participants should meet at one of the locations shown below. No Pants Subway Ride
Whisky tasting. January 1 – Feb. 13, 2015 (begins Dec. 13). 20 locations. With a $35 Good Whiskey Passport, you get whiskey drinks free at 20 different locations. Tips are extra.
Disney on Ice. January 1 – 19, 2015.  multiple locations. Movie characters act out stories and do acrobatics on skates at Princesses & Heroes in East Rutherford, NJ, Uniondale, and discounted in Newark, NJ.
Experimental theater. January 2 – 17, 2015. See contemporary theater and dance performances and premieres at COIL in Performance Space 122.
Italian opera. January 7 – 24, 2015 (begins Dec. 11). La Traviata is a bittersweet love story by Verdi at the Metropolitan Opera House. Discount tickets.
Dance show and party.  January 7 – March 1, 2015. Wayra: Fuerza Bruta is a spectacular mix of club, circus, rave, and underwater show where you stand and dance at Daryl Roth Theatre. Discount tickets.
Tony-winning musical. January 7 – Sept. 6, 2015. Kinky Boots is based on a true story about a shoe factory owner and a drag queen, with a joyful and inspiring score by Cyndi Lauper at Al Hirschfeld Theatre. Discount tickets for January and February.
Jazz festival.  January 8 – 10, 2015. NYC locations. Winter Jazzfest NYC includes 100 groups playing at 11 venues in the Village. Buy a day or weekend pass.
Experimental art. January 8 – 18, 2015. American Realness Festival features 75 performances of 19 productions, plus both onsite and offsite exhibitions, at Abrons Arts Center.
French casserole cook-off. January 11, 2015 (1 to 4 p.m.). Taste competing chef's versions of this slow-cooked casserole from the south of France made with meat and beans at Cassoulet Cook-Off at Jimmy's No. 43
Balkan festival. January 16 – 17, 2015. Zlatne Uste Golden Festival is a music and dance festival with 60 bands on 4 stages, vendors of Balkan art and textiles, and Middle Eastern refreshments at Grand Prospect Hall in Brooklyn.
Beer tasting. January 17, 2015 (12 to 3 p.m.). Taste 12 IPA beers and vote for your favorite at theMystery IPA Contest at Mugs Alehouse in Brooklyn.
Pinot Noir tasting. January 17 – 18, 2015. Taste 100 pinots from 35 producers on Sunday atNew York City Pinot Days at City Winery on Varick Street. A winemaker's dinner is on Saturday.
Boat show. January 21 – 25, 2015. See new boats, marine gear, and accessories plus workshops and TV celebrities at the New York Boat Show at the Jacob Javits Convention Center.
Cocktails & food. January 22, 2015 (6 to 9 p.m.). Good Spirits pairs fine spirits with local restaurant food at the Invisible Dog Art Center for age 21+.
Dance festival. January 22 – 31, 2015. FLICfest (Feature Length Independent Choreography) is a festival of feature-length dance, with complete works by six choreographers, plus informal late-night cabarets, at Fort Greene in Brooklyn.
Antiques show. January 23 – Feb. 1, 2015. View and purchase exceptional antiques ranging from ancient Roman glass through mid-century modern from 70 exhibitors at the Winter Antiques Show at the Park Avenue Armory. No baby strollers weekends.
Beer tasting. January 31, 2015. Sample 150 beers from 20 countries in an afternoon or evening session at International Great Beer Expoat Meadowlands Exposition Center in Secaucus, NJ.
Рекомендуем:
29 января, четверг,  6:00 pm – 8 p.m. Институт Гарримана, Колумбийский университет, Harriman Institute Atrium, 12th Floor, 420 West 118th Street
На вернисаже вы сможете встретиться с Андреем Бертеньевым.
Куратор: Наташа Шарымова. 212.854.4623, 347.450.7583
Дополнительная информация: http://www.bartenev.ru/, http://en.wikipedia.org/wiki/Andrey_Bartenev
January 2015 New York City Concerts and Shows
Billy Joel – January 9, 2015
Fleetwood Mac – January 22, 2015
Barclays Center
Linkin Park – January 25, 2015
Prudential Center (NJ)
Disney on Ice Princesses and Heroes – January 15-19, 2015
Beacon Theatre
Dancing With the Stars – January 15, 2015
Billy Idol – January 28, 2015
Half Price Tickets January in New York City
Brooklyn Nets Basketball
Harlem Globetrotters
Madame Tussauds New York
NY Botanical Garden Holiday Train Show
Big Apple Circus
January Broadway Show Picks

 
You Can't Take It With You Broadway Comedy – Starring James Earl Jones and Rose Byrne
Called the "original Modern Family," this comedy play follows the freethinking Sycamore family and mayhem that ensues when their daughter's fiancé brings his conservative, straight-laced parents to dinner on the wrong night. (August 26, 2014-February 22, 2015)
Love Letters Broadway Play – Anjelica Huston & Martin Sheen
Two actors, playing long time aristocrats, read love letters written to each other from the age of 7 through the next 50 years. Diana Rigg & Stacey Keach through January 9th; Anjelica Huston & Martin Sheen January 10 – February 15, 2015.
A Delicate Balance Broadway Play – starring Glenn Close, John Lithgow, Martha Plimpton
Married couple, Agnes and Tobias, cope over the course of a weekend, as they welcome home their 36-year old daughter after the collapse of her fourth marriage, give shelter to their best friends, and tolerate Agnes' alcoholic live-in sister. (October 20, 2014 – February 22, 2015)
The River Broadway Play – starring Hugh Jackman
A remote fishing cabin, a man and a woman, and a moonless night. Erotic, chilling and poetic, The River promises to be the must-see event of the season. (October 31, 2014 – February 8, 2015)