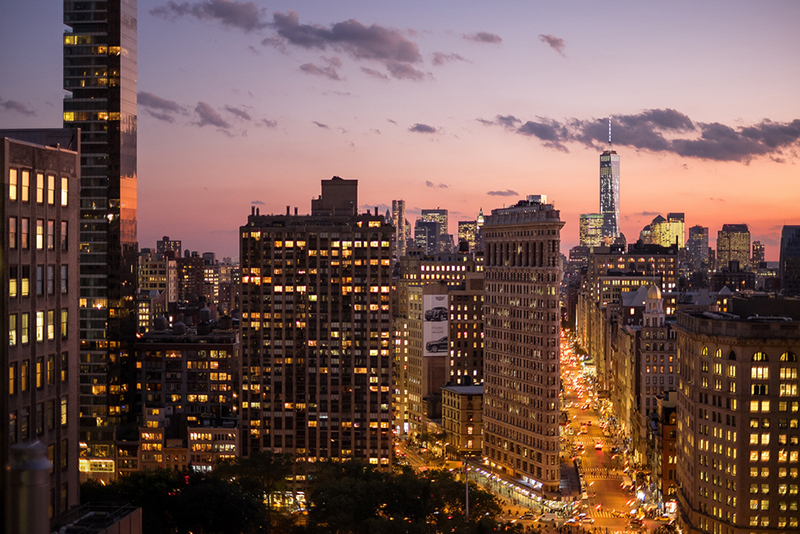 [box][quote]В Нью-Йорке ноябрь месяц не только предпраздничных ожиданий, но и радостных свершений. Именно в этом месяце начинаются самые любимые «ивенты» года. Ноябрь, в плане развлечений и праздников, – это почти декабрь, но более тёплый и менее суетливый. Именно в ноябре устанавливают и зажигают рождественские елки, открывают праздничные базары подарков и елочных украшений, запускают традиционные предновогодние спектакли и представления. В ноябре стартует вожделенное для всех американцев шоу Rockettes в Radio City, открываются двери в сказочный мир «Щелкунчика» Джоржа Баланчина и многое, многое другое… Но кроме «декабрьских» развлечений в ноябре полным-полно своих собственных ярких и красочных мероприятий, так что трудно не согласиться с утверждением, – ноябрь самый насыщенный событиями месяц в году. Еще не стихли восторженные возгласы в честь Праздника всех святых, а уже на подходе парады в честь Дня Ветеранов и Дня Благодарения, и, конечно, грандиозный традиционный фейерверк от магазина Macy's вечером 26 ноября. Еще греет солнце и Центральный парк стоит в зелено-желтом убранстве, но уже залили городские катки, и на улицы выходят «солдаты Армии спасения» со своими колокольчиками. Город живет праздничной жизнью в атмосфере ярмарок, фестивалей, прмьер, распродаж, ярких реклам, музыки и соблазнительных анонсов. Будьте уверены, праздничный сезон не пощадит никого – все мы в его власти, все окунемся с головой в его сверкающий водоворот и, как обычно, понесемся по его волнам прямо к вратам Нового Года. Наслаждайтесь, ноябрем, но помните, что сил и энтузиазма должно хватить на долго – аж до 1 января 2016 года. А что потом? Потом, как и теперь внимательно читайте нашу Афишу, – она поможет вам сохранять хорошее настроение, оптимизм и быть в курсе интересных событий в любое время года.[/quote][/box]

Macy's Thanksgiving Day Parade. Before America collectively fashions a can holder out of its beer gut and settles in to watch some football, all eyes turn to Manhattan and the Macy's Thanksgiving Day Parade, an annual pageant of giant balloons, floats, cheerleaders, clowns, marching bands, Broadway shows and celebs. Sure, it's fun to watch in your PJs, but if you have visitors in town, take them to watch the procession in person.
Veterans Day Parade. Salute the throngs of brave servicemen and women, and watch marching bands step in time up Fifth Avenue. The parade will be preceded by an opening ceremony and wreath-laying at the Eternal Light Monument (Fifth Ave at 24th St; 10–11am). Fifth Ave from 26th St to 56th St. Subway: E to Fifth Ave–53rd St; N, Q, R to Fifth Ave–59th St; N, R to 23rd St; 7 to Fifth Ave. RECOMMENDED: All Veterans Day coverage
White Light Festival  November 1 – 22, 2015 (begins Oct. 14). See world-class performances, films, and artist talks with a focus on music during White Light Festival at Lincoln Center for the Performing Arts.
November 1 – Dec. 30, 2015 (also Oct.) "Best play" Tony Award. Based on a best-selling book, The Curious Incident of the Dog in the Night-Time is a highly acclaimed play about an extraordinary teenager solving a mystery at Barrymore Theatre. Discount tickets $59 to $99.
November 1 – Dec. 31, 2015 (also Oct.)  Edgy puppet show. Humans and puppets live in a shabby neighborhood onAvenue Q and entertain mature audiences with sassy songs and funny antics at New World Stages. Discount tickets $45.
November 1, 2015 – Jan. 3, 2016.  Winter in Bryant Park. Winter Village at Bryant Park has 125 holiday kiosk shops, atree lighting, and an ice skating rink. Free unless you rent skates.
Nov. 1, 2015 – Jan. 24, 2016 (also Oct.).  Dog-lover's romantic comedy. Sylvia is a captivating canine who befriends Matthew Broderick in Central Park and changes his life (and his wife's), at Cort Theatre. Discount tickets $32 to $95.
November 5 – 27, 2015. Basketball
The New York Knicks play at Madison Square Garden.
Nov. 6 – Milwaukee Discount tickets $50 to $90
Nov. 15 – New Orleans Discount tickets $50 to $90
Nov. 17 – Charlotte Discount tickets $50 to $90
Nov. 29 – Houston Discount tickets $50 to $90 
November 5 – Dec. 26, 2015. Dinner cruise. Enjoy a reception, three-course dinner, DJ dance, and three hours of views on a Manhattan Dinner Cruise by Hornblower Yachts, departing from Pier 40 at 353 West Street. Discount tickets $85.
November 6 – 15, 2015. Hard cider festival. Cider Week celebrates traditional hard cider with tastings, flights, pairings, classes, and events.
November 8 – 29, 2015. Football
Watch the New York Jets play at MetLife Stadium.
Nov. 8 – Jacksonville 1 p.m. discount tickets $55
Nov. 12 – Buffalo 8:25 p.m. discount tickets $72
Nov. 29 – Miami 1 p.m. discount tickets $72
November 10 – 15, 2015. Comedy festival. New York Comedy Festival features big-name comedians, special sketch and improvisational comedy, panel discussions, and benefits.
November 11, 2015. Veterans Day Parade. America's Parade entertains 600,000 spectators as it goes up Fifth Avenue from 26th to 52nd Street. Free.
November 12 – 15, 2015. Horror film festival. The competitive NYC Horror Film Festival (NYCHFF) shows short and full-length films near Times Square.
November 12 – 22, 2015. Tango festival. See performances by 15 artists, take classes that range from beginner to advanced, or see Argentinian films on Sunday atShall We Tango NYC.
November 13 – 16, 2015 (preview Nov. 12). Fine art show. See contemporary design, decorative art, antiquities, and ethnographic art from around the world at The Salon Art + Design in the Park Avenue Armory.
November 14 – 15, 2015. Antiques sale. Pier Antique Show includes 500 vendors of classical and formal antiques, Americana and decorative arts, and 20th Century modern at Pier 94. Repeats March.
November 14 – 15, 2015. Craft fair. Shop from 200 artisans, chefs, and vintage vendors atRenegade Craft Fair at the Metropolitan Pavilion. Repeats in Sept. Free.
November 16 – Dec. 24, 2015. Holiday market at Grand Central. Grand Central Holiday Fair is a holiday market with 76 vendors in Vanderbilt Hall. Closed Thanksgiving. Free.
November 21, 2015. Thanksgiving scavenger hunt. Cranksgiving is a scavenger hunt on your bicycle for Thanksgiving food that you donate to a food bank, plus a party. Bring $20, a bag/pack, and a bike lock.
Nov. 21, 2015 (see dates below). Cocktails in the conservatory. Sip a cocktail under holiday lights; see model trains circle a miniature New York; and watch ice carvers at Bar Car Nights at the Holiday Train Show at the New York Botanical Garden for age 21+. Open 7 to 10 p.m. on Nov. 21; Dec. 4, 5, 18, 19; Jan. 2, 8, 9, 15, 16.
November 21, 2015 – Jan. 18, 2016. Holiday Train Show. Watch model trains zip around miniature New York landmarks made of plant materials, and enjoy kids' activities at theHoliday Train Show at the New York Botanical Garden.
November 22, 2015. Long Island boat parade. Watch decorated boats on the river at Patchogue Christmas Holiday Boat Parade on Long Island. Free.
November 25, 2015. Balloon inflation. Watch giant balloons slowly fill with helium at Macy's Thanksgiving Parade Balloon Inflation [bottom of the page] near 79th Street and Columbus Avenue.
November 26, 2015. Thanksgiving Day Parade. Watch giant balloons, floats, marching bands, clowns, and performers as Macy's Thanksgiving Day Parade goes down Central Park West and 6th Avenue. Free.
November 27, 2015 (9:30 p.m.). Dance party: '80s & '90s. The '80s vs '90s Party features your favorite songs played by a cover band and DJ, props, movie clips, costumes, and sound bites at the Cutting Room for age 21+. Discount tickets $5.

FREE Central Park Walking Tours
New York City offers FREE walking tours all year round, and autumn in New York is incomparable when it comes to beautiful views of Central Park.
Against a backdrop of cobblestone and some of the world's greatest 'parkitechture', learn about the history, geology and design of one of the world's most fabulous parks.
See famous sites from movies and TV, find out about fun, free things to do in Central Park, catch the performances of some of NYC's most gifted entertainers giving it away free (although a small donation in a guitar case or coffee cup is always appreciated), soak in Central Park's colorful beauty and walk off those famous New York City hot dogs. This is a great way to spend an autumn afternoon in New York City.
Лучшее бродвейское шоу в ноябре:
FUN HOME  Circle in the Square Theatre : Closes 5th June 2016. After a universally acclaimed run at The Public Theater, Fun Home transfers to Broadway in 2015. Based on a graphic novel by Alison Bechdel, this new musical traces the relationship between a deeply closeted father and his daughter. Helmed by director of the moment Sam Gold, the five-time Tony winning Fun Home is the most refreshingly atypical musical of the year. More info
HAMILTON Richard Rodgers Theater  Fresh from the Newman Theatre, this new musical from the pen of Tony, Grammy and Emmy winner Lin-Manuel Miranda (In the Heights) explores the life of one of America's greatest figures, Alexander Hamilton. Tracing his story from humble beginnings in the West Indies to the duel which ended his life, Hamilton is a historical epic infused with Miranda's whip-smart writing and a brilliant hip-hop influenced score. Andrew Rannells joins the cast from October 27th for a one month run! More info
 FOOL FOR LOVE  Samuel J. Friedman Theatre : Closes 13th December 2015
After making its debut to great acclaim at 2014's Williamstown Theatre Festival, this revival of Sam Shepard's 1983 play transfers to Broadway with Sam Rockwell (The Way Way Back) and Tony winner Nina Arianda (Venus in Fur) in the lead roles. They play Eddie and May, former lovers reunited in a seedy motel room on the edge of the Mojave Desert. More info