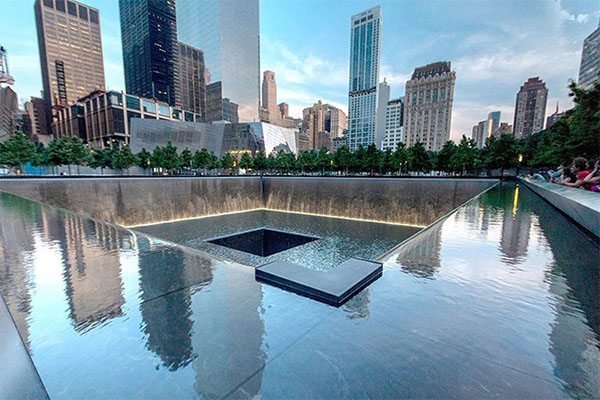 [box][quote]Сентябрь – месяц «между прошлым и будущим» – между уходящим летом и наступающей осенью. И этим сентябрь прекрасен, – полный сил, энергии, оптимизма, дарованного летом, окрыленный началом нового сезона, новых планов, идей и надежд. В Нью-Йорке в сентябре по-летнему тепло и по-осеннему многообещающе. Закончились отпуска, вернулись в свои шоу или приехали на гастроли знаменитые артисты, начались новые сезоны в театрах, вернисажи в картинных галереях, вспышкой фейерверка засверкает нью-йоркская неделя моды и придёт череда самых сногсшибательных фестивалей. В сентябре состоятся концерты Мадонны, Дианы Росс, пройдет Фото-Экспо, конное шоу в Центральном парке, выставка новейших автомобилей, тату и мотоциклетный фестиваль, а также фестивали джаза, кино и танцев, а еще бранч на яхтах и многое другое. В общем, все как всегда и даже лучше. Но сентябрь не простит вам чрезмерной расслабленности, он требует внимания и сосредоточенности иначе можно пропустить нечто важное и уникальное, так что следите за нашей Афишей чтобы быть в курсе происходящего и не упустить свой шанс побывать везде, где должно быть. [/quote][/box]
[al2fb_like_button]
September 1 – 30, 2015. Jazz festival Generations in Jazz Festival has performances every night at Dizzy's Club. Schedule.
September 1 – Nov. 30, 2015 (also Aug.). Popular musical: Fantasticks The Fantasticks is a funny and romantic musical entertaining audiences since 1960, at intimate Snapple Theater in Times Square. Discount tickets $39.
September 1 – Dec. 31, 2015 (also Aug.). Tony winning musical. The N.Y. Times calls A Gentleman's Guide to Love & Murder at Walter Kerr Theatre "spirited, quirky, and altogether delightful." Discount tickets $35 to $79.
September 2 – 7, 2015. Salsa festival. New York International Salsa Dance & Music Festival[sound] has workshops, performances, live concerts, and competitions at the Wyndam New Yorker Hotel.
September 2 – 23, 2015. Mets baseball. Watch the New York Mets play a game at Citi Field.
4-6 Сентября Electric Zoo Festival. Нью-йоркские танцевальные клкбы собираться на потрясающем фестивале на Randall's Island.
Look out New York City dance clubs, the Electric Zoo 2015 Festival is poised to take over Labor Day weekend, briging hoards of EDM fans to Randall's Island for the event's seventh summer. The festival has become an unmissable attraction on the electronic-dance-music circuit, featuring a wide range of artists both top name and underground. Get on your dancing shoes and best festival clothing and enjoy the tunes. How do I get tickets?
Buy tickets at the official festival website, electriczoofestival.com/tickets. Prices are currently $79 plus fees (Friday or Sunday) and $119 plus fees (Saturday). You can also purchase 3-day passes for $239.99 plus fees.
19 сентября – Откроется главный в году пивной фестиваль – Oktoberfest.
One of the topthings to do in New York this fall includes two weeks of drinking some of the best beer in NYCduring Oktoberfest. Take in the beautiful fall foliage while drinking at one of the best beer gardens and beer halls in New York City. Oktoberfest New Yorkers, take advantage of this glorious holiday to sample fine Bavarian beer and food. Prost!. The official dates for this Bavarian festival are Saturday, September 19 through Sunday, October 5, 2015.
 September 4 – Oct. 30, 2015 (10 a.m. from Aug.). Best walking tour
City of Dreams Tour gets excellent reviews for its walking tour (3.5 hours) led by an expert guide in East Village, Little Italy, and SoHo that includes a bakery snack and a pub drink. Discount tickets $25.
September 5 – 7 and 12 – 13, 2015. Art exhibit.  Washington Square Outdoor Art Exhibit features 120 artists on the sidewalks of University Place. Repeats in May. Free.
September 6, 2015. Brazilian Day. Brazilian Day [sound] is a lively festival celebrating Brazil's independence with music, dance, and food in 25 blocks of Little Brazil near West 46th Street. Free.
September 6 – Dec. 27, 2015 (Sundays). Brunch on a yacht. Enjoy a buffet, live jazz, and two hours of views on theSunday Jazz Brunch Cruise by Hornblower Yachts, departing from Pier 40.  Discount tickets $44.
 September 10, 2015 (6 to 8 p.m.). Taste of Greenwich Village. Enjoy tastes from 30 local food and wine purveyors atTaste of the Village in Washington Square Park.
September 10 – 13, 2015. Affordable Art Fair. Browse contemporary paintings, prints, sculptures, and photographs from 50 galleries at the Affordable Art Fair, which includes workshops and activities at the Metropolitan Pavilion. Repeats in March. Discount tickets $6 to $13.
September 10 – 17, 2015.  New York Fashion Week. Top models, photographers, and designers attend invitation-only events that unveil spring collections during New York Fashion Week. Repeats in Feb.  Watch a live stream of some events.
September 10 – 20, 2015. Photo expo. View photographs in a village of shipping containers, hear photographers and editors, watch projections at night, and visit a beer garden and food trucks atPhotoville at Brooklyn Bridge Park, Pier 5. Free.
September 12, 2015 (10 a.m.). Labor Day Parade. Celebrate workers with the AFL-CIO at the Labor Day Parade on 5th Ave from 44th Street to 64th Street.
September 12, 2015. History celebration. The 1776 Peace Conference Celebration offers historic house tours, re-enactments, colonial dancing, outdoor cooking, crafters, music, and kids' activities, at the Conference House in Staten Island, if weather allows.
September 13 – 19, 2015. Motoexpo –  New cars. See the latest cars outdoors at Brookfield Place in Lower Manhattan during Motorexpo. Free.
September 19, 2015. Oktoberfest in Central Park. Enjoy German beer and food with live music at theSteuben Parade Oktoberfest at Rumsey Playfield in Central Park. Sells out fast.
September 20, 2015. German festival. Ompahfest (also known as Schuetzenfest) features German and Austrian food, beer, music, and dance at Plattduetsche Park in Franklin Square.
September 23 – 27, 2015. Horse show. Watch show jumping, exhibition acts, and a polo game on the last day at Central Park Horse Show in Trump Rink at Central Park.
September 25 – October 11, 2015. New York Film Festival.New York Film Festival (NYFF) shows documentaries, classics, and full-length feature films by the world's great filmmakers.
September 26, 2015. Free museum day.  Get a free ticket for two people to visit one of 95 museums in New York state on Museum Day Live.
September 26 – 27, 2015 (pre-party Sept. 25). Tattoo & motorcycle festival. Watch entrants compete in the great blue-collar arts of tattooing and motorcycle customization at the Coney Island Tattoo and Motorcycle Festival. Free.
September 30 – Oct. 11, 2015. Dance festival. Fall for Dance Festival features five unique programs by international dance companies at City Center.
Концерты
MADONNA.
Sep 16-17, 2015– MADISON SQUARE GARDEN,
Sep 19, 2015- BARCLAYS CENTER
The undisputed Queen of Pop will be embarking on her 10th world tour, proving that this material girl still has a Rebel Heart! Over the course of her extraordinary three-decade career, Madonna has sold over 300 million albums and holds the record for the most successful tour by a solo artist in history. She is a seven-time Grammy winning singer, songwriter, producer and Rock & Roll Hall of Fame inductee.
DIANA ROSS Prudential Hall : 16th September
The list of Diana Ross' achievements is staggering, and twelve-time Grammy winner and Oscar-nominated superstar Diana Ross is showing no signs of slowing down her touring career! Don't miss your chance to see a living legend in concert. More info
DAVID BROMBERG. Town Hall Theater : 19th September
Grammy-nominated singer-songwriter David Bromberg is known for his eclectic style, playing bluegrass, blues, folk, jazz, country and western, and rock & roll equally well. He is known for his quirky, humorous lyrics, and the ability to play rhythm and lead guitar at the same time. More info
 JOSH GROBAN. Beacon Theater : Closes 30th September 2015
With over 20 million records sold in the US, Josh Groban is arguably the most popular singer-songwriter in the country after hits from his five albums, including 'Closer' and 'Awake'. More info
Анонсмент – не упустите шанс купить билеты:
BILLY JOEL . Madison Square Garden : Closes 17th December 2015
«Performing at Madison Square Garden is a thrilling experience. I've played different venues all over the world, but there's no place like coming home to the Garden. – Billy Joel
Joel is one of the highest grossing touring artists in the world, and has performed over 46 concerts at Madison Square Garden to date. Having sold more than 150 million records over the past quarter century, he's ranked as one of the world's most popular recording artists and respected entertainers in history. – See more
"China Doll" на Бродвее с участием Аль Пачино  Первый спектакль 21-го октября.
Producers Jeffrey Richards, Jerry Frankel and Steve Traxler announced that tickets are available for purchase online at telecharge.com or by calling (212) 239-6200.
China Doll, a two-character play that follows a billionaire named Mickey Ross — who has just bought an airplane for his young fiancée as he prepares to go into semi-retirement — is scheduled to begin previews Oct. 21 at the Schoenfeld Theatre ahead of a Nov. 19 opening.
22 Oct 2015 – 14 Feb 2016. Броадвей. MISERY, с участием Брюса Уиллиса..,BRAND NEW FOR 2015
For his long-awaited Broadway debut, Bruce Willis takes on the role of Paul Sheldon, a historical romance writer who has just killed off his main character, Misery Chastain, in a bid to re-invent himself as a 'serious' novelist. But unluckily for Paul, his literary re-birth has a lot of detractors, especially his 'Number One Fan' Annie Wilkes (Laurie Metcalf) and, after a car accident near her isolated home, he finds himself recuperating in her 'care'…
"I AM IN TROUBLE HERE. THIS WOMAN IS NOT RIGHT." THE STORY OF MISERY
One of Stephen King's most psychological and suspenseful tales, Misery begins as a portrait of an author and fanatic, but as Paul is faced with former nurse and captor Annie's increasingly insane and physically abusive behaviour, it becomes more of a tense battle for survival. How will he escape and what's more, will he break out in time?
DID YOU KNOW?
Authors feeling the heat from fans when a beloved character meets their end is not just fiction; in 1893 Arthur Conan Doyle wished to take a break from writing his famous detective Sherlock Holmes, and killed him off in a tumble over a waterfall. Fans were so outraged Conan Doyle received death threats and letters of complaint until he resurrected Holmes and carried on the series.