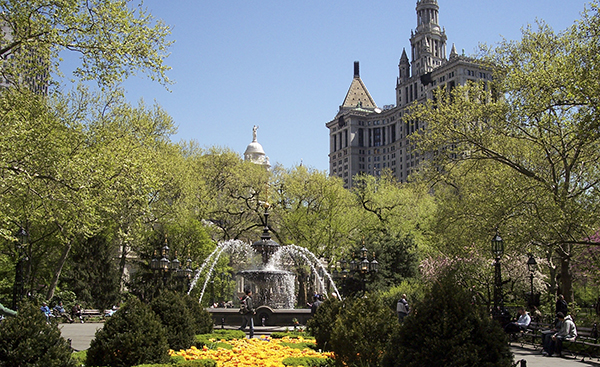 [box]Ну наконец-то тепло и солнечно, жизнь Нью-Йорка наполняется яркими красками не только в переносном, но и прямом смысле. Все в цвету: кусты, деревья, клумбы – природа манит, а погода шепчет. Поэтому май в Нью-Йорке можно провести непринужденно курсируя между пикниками, фестивалями, перформансами и выставками под открытым небом, дегустируя различную еду, вино и пиво, слушая музыку и наслаждаясь природой и городом в полное свое удовольствие. Но не стоит забывать и о том, что приятное разнообразие в нашу жизнь могут внести высококлассные концерты, театральные представления и музейные экспозиции, а также весенние предпродажные выставки и торги ведущих аукционных домов, о которых мы вам обязательно расскажем подробно. Обратите внимание, что в мае в Нью-Йорке пройдут гастроли Балета Эйфмана из Санкт-Петербурга, гастроли Бориса Гребенщикова и группы "Аквариум", состоится фестиваль джаза в Гарлеме и, скорей всего, немного шокирует широкую публику 4-й ежегодный BOYlesque Festival – бурлеск-шоу мужского стриптиза, участниками которого станут лучшие исполнители из 40 стран мира. Как всем известно, в мае в США отмечают Mather Day (9 мая) и Memorial Day (25 мая). Первоначально Memorial Day был учреждён в память погибших во время Гражданской войны между Севером и Югом, теперь же в этот день чтят память всех погибших американских военных.[/box]
[al2fb_like_button]
Black heroes of World War II. May 2 – 30, 2015. The NY Times calls Black Angels Over Tuskegee an "uplifting inspirational melodrama…about trailblazing African-American fighter pilots" at St. Luke's Theatre on West 46th Street.  Discount tickets $35+.
Tony-winning musical. May 2 – Aug. 29, 2015.The cast of In the Heights sings and dances around you to vibrant hip-hop, pop, and Latin music as they tell the story of tight-knit Dominican-Americans at Harlem Repertory Theatre.
Italian comedy. May 3 – 31, 2015. Four stand-up comedians act as therapy patients in the comic play Shut Up Sit Down & Eat at Snapple Theater in Times Square. Discount tickets $15+.
Brunch cruise. May 3 – Dec. 27, 2015 (Sundays 12:30 p.m.) Enjoy a buffet, live jazz, and two hours of views on the Sunday Brunch Cruise by Hornblower Yachts, departing from Pier 40. Discount tickets $44+.
Jazz festival. May 4 – 9, 2015. Harlem Jazz Shrines Festival features new and established jazz artists in historic Harlem venues.
5 мая – Торги на аукционе Sothebys – Impressionist & Modern Art Evening Sale
14 мая – Торги на аукционе Christie's – IMPRESSIONIST AND MODERN EVENING SALE INCLUDING PROPERTY FROM THE JOHN C. WHITEHEAD COLLECTION.  
Yankees game and picnic. May 8 – July 5, 2015. Choose from two New York Yankees package deals with a seat and picnic meal at Yankee Stadium
May 8 – June 18: Field-level seat and unlimited picnic until 30 min. into game. Deal is $75+
May 23 – July 5: Center-field seat and unlimited picnic until 30 min. beforeDeal is $65+
4th Annual NY BOYlesque Festival to Run 5/8-9. Jen Gapay of Thirsty Girl Productions (voted #1 most influential/non-performing women in burlesque) and Daniel Nardicio, NYC's "Best Gay Party Promoter" (Village Voice), join forces for The 4th Annual New York Boylesque Festival, May 8th & May 9th, 2015.  With over 40 male performers from Japan, France, Australia, Chicago, LA, London, Canada & more, this year's Boylesque Festival promises to be the biggest yet. Hosted by NYC's own drag mama Sweetie, this two day flesh festival will promise to be the sexiest weekend of 2015.
Mother's Day restaurants. May 10, 2015.  OpenTable lists restaurants that offer special brunch, lunch, and dinner menus on Mother's Day.
Dance party. May 15 – 17, 2015. Do the dances you love with fun people, to live music and seasoned DJs at Big Apple Balboa, Blues and Lindy Exchange (BABBLE).
International food fest. May 16 – 17, 2015. Ninth Avenue International Food Festival features food from around the world, international music and dance, artists and vendors, and children's rides and games on 9th Avenue (42nd to 57th). Free entry.
Cocktail festival. May 16 – 19, 2015. Manhattan Cocktail Classic offers nearly 100 events, including a black-tie Saturday-night gala, tastings, parties, pairings, seminars, and a trade conference.
Waterfront celebration. May 17, 2015 (12 to 6 p.m.). Bayfest is 8 blocks of local food vendors, live music, and kids' crafts on Emmons Ave. in Brooklyn. Free.
May 19. BG / Akvarium "Abordazh" @ Webster Hall (NYC) –BG/AQUARIUM
ABORDAGE! 2015 NORTH AMERICA TOUR. Boris Grebenshikov has been an international star and the face of Russian rock for thirty years, founding his rock band Aquariam in 1972.
Flamenco show. May 19 – 24, 2015. Flamenco Vivo Carlota Santana performs two programs on the BAM Fisher stage in Brooklyn.
Festival of the arts. May 22 – 24, 2015. Lower East Side Festival of the Arts features dance, film, music, poetry, theater, and visual art at the Theater for the New City. Free.
Contemporary Russian ballet. May 22 – 24, 2015. Eifman Ballet of St. Petersburg performs a dramatic full-length ballet based on the life of French sculptor Rodin at New York City Center. Discount tickets $39+.
Summer beer festival. May 28 – 30, 2015. Sample 150 craft beers with local restaurant food at the NYC Craft Beer Festival at Pier 15 East River Esplanade.
Greek festival. May 28 – 31, 2015. Enjoy Greek music, dancing, cooking demonstrations, kids' activities, and delicious food atNJ Greek Fest at Holy Trinity Greek Orthodox Church in Westfield, NJ.
May 29. Russian Rock Festival "Echo" 2015 @ Deerpark, NY
2-days Russian Rock Festival 2015 has amazing headliners this year: "Nogu Svelo" (Moscow, Russia), "Flying Balalaika Brothers", "Vertex" and more. Location: Deerpark KOA, 108 Guymard Turnpike, Cuddebackville, NY
Tickets are going fast.
Pet expo. May 30, 2015. Bring your pet (see rules) to New York Pet Expo, which offers vendors, vaccinations, entertainment, and adoptions at Nassau Coliseum on Long Island. Free except parking.
Art on Randall's Island. May 30, 2015 (1 to 3 p.m.) Attend the grand opening of the Flow.15 outdoor art exhibit and meet the artists at Randall's Island Park. Free.
Burlesque & vaudeville show. May 28, 2015 (also June 25). Bawdy brings together cabaret, comedy, drag, and burlesque for adults at Stage 72. Discount tickets $14+.
Shakespeare in the Park. May 27 – July 5, 2015. Wait in line or join the online lottery for a ticket toThe Tempest at Delacorte Theater in Central Park. Free.