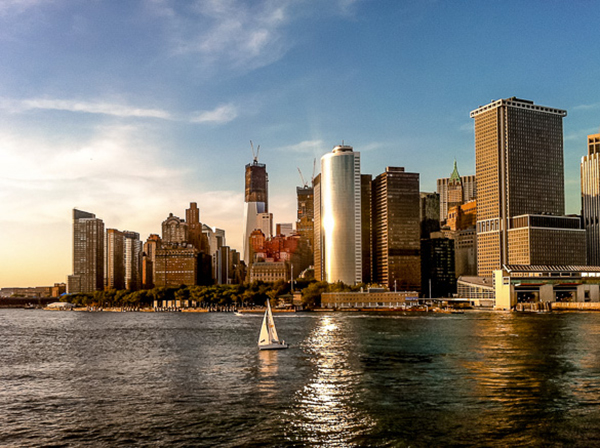 [box][quote]В Нью-Йорке июль – это Месяц на воде или, по крайней мере, около воды. Без преувеличения,  большинство мероприятий этого, самого жаркого, месяца стараются провести у «водной глади», которая, если не дарит то, хотя бы, создает иллюзию прохлады. Всевозможные концерты, танцевальные вечеринки, пикники, театральные представления, показы фильмов, опер и спектаклей пройдут на летних площадках, которые в Нью-Йорке создаются, как будто, по велению волшебной феи, буквально за несколько часов.
Берега Гудзона, Ист-ривер и Нью-Йоркской бухты каждый вечер будут вспыхивать огнями рамп и радовать слух зрителей и жителей окрестных кварталов звуками музыки и строками из бессмертных драматических произведения.
Центральный парк, Брайянт парк и Вашингтон сквер не уступят в «творческом разнообразии» площадкам береговой линии. Так что, вариантов масса, а выбор остается за вами.
Конечно, апофеозом Месяца на воде будет фейерверк, посвященный Дню Независимости, который лучше смотреть не из толпы, а с палубы корабля. Всевозможные круизы на катерах и яхтах с танцами, представлениями и угощениями ожидают своих гостей, а значит и вас лично. Поверьте, их можно найти на любой вкус и бюджет.
Убедитесь в этом, заглянув на сайт julyfourth.com и viator.com.
А о лучших «ивентах» Нью-Йорка читайте, а нашей Афише.[/quote][/box]
July 1 – 5.  Shakespeare in the Park. Wait in line or join the online lottery for a free ticket to The Tempest at Delacorte Theater in Central Park.
July 4. Hot-dog eating contest. Watch qualified champion eaters compete in the world famous Nathan's Famous Hot Dog Eating Contest on Coney Island, plus music and entertainment. Free.
July 5 – 26. Free concerts at MoMA. Attend four weekly jazz and classical music concerts at Summergarden in the sculpture garden of the Museum of Modern Art. Limited seating. Free.
July 6 – Aug. 2. Lincoln Center Festival. Enjoy extraordinary opera, music, dance, and theater that showcases contemporary artistic viewpoints at Lincoln Center Festival in and near Lincoln Center.
July 8 – 11. Hip-Hop Festival. Brooklyn Hip-Hop Festival celebrates Hip-Hop culture with panel discussions, films, exhibits, a launch party, food crawl, and a big closing-day show.
July 9 & 23. Indie music festival. Hudson RiverRocks is music concerts on 3 Thursdays along the water at Hudson River Park. Free.
July 9 – Aug. 13. Broadway hits in the park. Bring a blanket to watch popular shows on and off Broadway perform their biggest hits Thursday afternoons at Broadway in Bryant Park. Free.
 July 11. Seaport music festival. Rock out with two stages of performers at the4Knots Music Festival at Hudson River Park, Pier 84. Free.
 July 12. French day. Celebrate our French allies on Bastille Day by eating crêpes and éclairs, tasting wine and cheese, watching mimes and cancan dancers, and visiting kids' corner, on E 60th St. from 5th Ave. to Lexington Ave. Free.
July 12 – Dec. 27. Brunch cruise. Enjoy a buffet, live jazz, and two hours of views on the Sunday Brunch Cruise by Hornblower Yachts, departing from Pier 40. Discount tickets $44.
July 14, 2015 (6 p.m.) Pop concert on the pier. Three beautiful women (Colbie Caillat, Christina Perri, Rachel Platten) sing pop on The Girls Night Out, Boys Can Come Too Tour at Pier 97. Discount tickets $25.
July 18. Waterfront day. City of Water Day celebrates the waterfront with boat tours, live music, family activities, games, and food vendors at Governors Island and elsewhere. Free.
July 19. Dog party. Bring your dog to Barkfest to enjoy a splash zone, agility course, food trucks, a beer garden, vendors, photo ops, and dog-friendly fireworks on the waterfront in Williamsburg. Free.
July 20 – Aug. 14. Restaurant Week. Get a special deal on a 3-course lunch or dinner at 300 restaurants during NYC Restaurant Week, not on Saturdays. Repeats in Feb.
July 21 – 30. Jazz festival. Hear dozen of world-class jazz artists (including soulful singers, piano partners and dueling drummers) at 92nd Street Y Jazz in July Festival.
July 22 – Aug. 9. Outdoor concerts. Out of Doors is three jam-packed weeks of world-class music, dance, and spoken word in the plazas of Lincoln Center if dry. Free.
July 22 – Aug. 22, 2015. Classical music festival. Attend concerts, operas, late-night recitals, and world premieres at Mostly Mozart Festival, performed by the festival orchestra and special guests at Lincoln Center. Discount tickets $33.
July 23 – 25, 2015 (7 p.m.). Romeo and Juliet. See a fresh version of Romeo and Juliet, performed with music and dance by the Lower East Side Shakespeare Company at cozy Under St. Marks. Discount tickets $13.
July 25, 2015 (2 p.m.). Water fight. Bring a water gun (no water balloons) to be soaked at Waterfight NYC on Central Park's Great Lawn. Free.