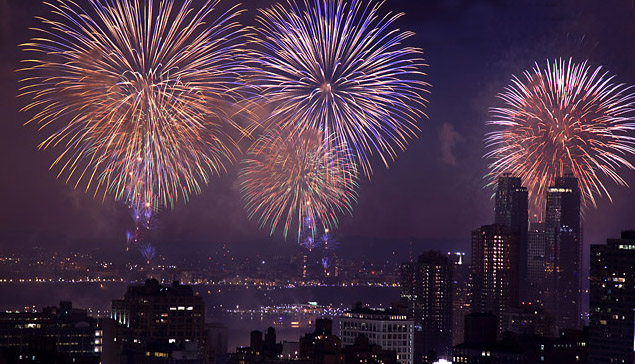 [quote style="boxed"]Июль, подхватывает эстафетную палочку летних фестивалей Нью-Йорка. Приятная отличительная черта июля, в том, что большинство замечательных и уникальных концертов, выставок, театральных выступлений будет проходить на открытом воздухе и совершенно бесплатно. Ловите момент и следите за нашей Афишей – она может обновляется и дополняться в течении месяца.[/quote]
Главное событие Нью-Йорка в июле, конечно, будет фейерверк в честь Дня Независимости, который традиционно проводит Maсy's. Фейерверк можно смотреть, находясь в Нью-Йорке, Бруклине и в Джерси Сити, на набережной напротив новой башни Всемирного Торгового Центра или в Либерти Парке.
4 июля – New York fireworks Macy's 4th of July. Fireworks Spectacular lights up the sky along the East River and Brooklyn Bridge. Free.
New Jersey fireworks– Jersey City Freedom & Fireworks Festival has live music, a carnival, food trucks, and fireworks in front of the Statue of Liberty at Liberty State Park. Free.
1-6 июля-  Шекспир в парке (Shakespeare in the Park). Wait in line or join the online lottery for a ticket to "Much Ado About Nothing" at Shakespeare in the Park at Delacorte Theater in Central Park. Free.
6 июля – бесплатный джазовый концерт в МОМА. Attend four weekly jazz and classical music concerts at Summergarden in the sculpture garden of the Museum of Modern Art. Limited seating. Free.
1 – 10 июля Опера в парках. Opera in the park NYC locations. The Summer Recital Series by the Metropolitan Opera features opera performances in various parks. Free.
5-9 июля- Фестиваль искусств в Бруклине – Arts festival in Brooklyn. Celebrate Brooklyn! is a performing arts festival of music (sometimes combined with film), theater, and dance at Prospect Park Bandshell in Brooklyn. Free.
9-15 июля – Нью-Йоркская Филармония проводит серию бесплатных концертов в Манхэттене, Бруклине, Квинсе. Concerts in the Parks – Priceless Music, Absolutely Free
7- июля – 16 августа Фестиваль Линкольн центра, Lincoln Center Festival. Enjoy extraordinary opera, music, dance, and theater that showcases contemporary artistic viewpoints at Lincoln Center Festival in and near Lincoln Center.
 12 июля – Музыкальный фестиваль  в Южном морском порту, Seaport music festival. Rock out with two stages of performers at the4Knots Music Festival in historical South Street Seaport. Free.
Большой Театр в Нью-Йорке, рамках Фестиваля Линкольн центра. The performances feature dancers Svetlana Zakharova, David Hallberg, Maria Alexandrova, Ekaterina Shipulina, Vladislav Lantratov, Olga Smirnova, Ekaterina Krysanova, Anna Nikulina, Maria Vinogradova, Mikhail Lobukhin, Ruslan Skvortsov, Artem Ovcharenko and Denis Rodkin.
15-20 июля – Лебединое озеро
25-27 июля – Дон Кихот
21 июля начинается Summer Restaurant Week. Продлится до 15 августа. В течение 20 дней рестораны предлагают специальное меню со значительными скидками. Бронируйте столики в ресторанах, которые давно хотели, но не решались посетить.
22-31 июля – Джазовый фестиваль на 92 стрит. –  Y Jazz festival in July Festival. Hear dozen of world-class jazz artists, including soulful singers, piano partners and dueling drummers.
25 июля – Фестиваль Индийского танца, Indian dance powwow. Thunderbird American Indian Mid-Summer Pow Wowis three days of intertribal Native American dance competitions and a crafts marketplace in the apple orchard at Queens County Farm Museum. http://www.queensfarm.org/events.html
25 июля- 23 августа – Фестиваль классической музыки в Линкольн Центре «Mostly Mozart». Attend concerts, operas, late-night recitals, and world premieres at Mostly Mozart Festival, performed by the festival orchestra and special guests at Lincoln Center.
На Бродвее в июле рекомендуем посмотреть мюзикл Аладдин в New Amsterdam Theatre
214 W 42nd St, between Seventh and Eighth Aves