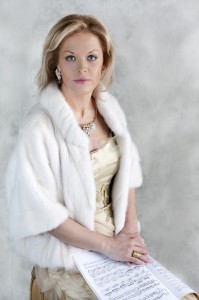 Olga Kern
, the striking  Russian Gold Medal winner of the Van Cliburn International Piano Competition
Tatiana Borodin's exclusive interview with Olga Kern,
New York, 2012
TB -Olga, you recently had a successful American tour with Vladimir Spivakov. It was a highly original project that brought you plenty of acclaim. Please, tell us how were these concerts different for you?
ОК -Vladimir Spivakov and I often work together. Usually, these are symphony concerts with a piano soloist. WithVladimirat the conductor's stand and I as a soloist. We have done that a lot previously. But this time around we played as a duet – a violin and a piano.
ТB -When and how did you first start working with Spivakov?
ОК It all started when he invited me to take part in his festival in Colmar, France. I believe it was in 2004, several years after I'd won the Van Cliburn Competition in 2001. Spivakov heard me play Rachmaninoff's Concerto 3, and he asked me to do it in his own concerts. Soon afterwards we went on a huge American tour together, and we did 35 performances across the country with his National Philharmonic of Russia. After that, I toured with his Moscow Virtuosi orchestra on occasion of their 30th anniversary. A European tour followed, after which we had an idea to try a duet. That's how the sonata recital project was born. And we launched it in February of this year in theUnited States.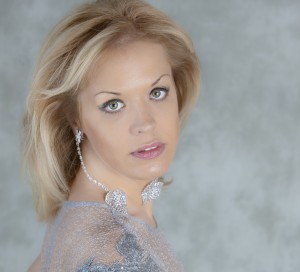 The program included Brahms Sonata No.3 and the Stravinsky's suite in the opening part of the concert. The back part consisted of a little known but exquisitely beautiful piece by Arvo Part dedicated to Vladimir Spivakov, and the Frank Sonata.
The Carnegie Hall performance also featured selections of Schnittke's latter works, Shostakovich's stupendous Trio No.2, and in conclusion – a Frank's composition with a beautiful piano solo. Overall, this is an absolutely unique program, a true showpiece for violin and piano.
ТB -The last time you were in New York, you played Carnegie Hall. Do you like that venue?
ОК – It's a tremendous venue. The sound carries beautifully in there. You can pick up in the last rows the softest of sounds, even pianissimo possibile. To play there is a dream of very musician. Every time I come on stage at Carnegie Hall and see it filled to capacity with almost three thousand people, I feel a surge of  positive energy flowing from the audience.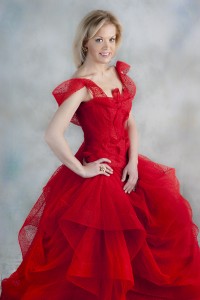 TB -What are your future plans?
ОК -I am now in the midst of a long solo European tour.
After that, I have a series of concerts in Lyon, then a solo show inMilan. Next I play inPraguewith the Czech Republic Philharmonic; we are going to perform Beethoven's Symphony No.5. From there I travel toKrakow. As to theUnited States, I have solo performances inSan Francisco, then I go to Rachmaninoff Festival inPhoenix,Arizona, and finish the tour inDenverwith a selection of Grieg's music. And at the end of spring and the beginning of summer, I am back in Europe –Italy,Germany, and a long recording session inBerlin.
ТB -Could you talk a little bit more about the Rachmaninoff Festival in Arizona?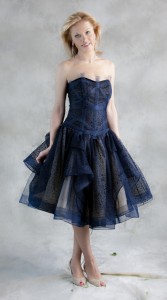 ОК -It will be a very interesting event. I have already played with that orchestra, though it was a long time ago. Hope everything will go smoothly. I've done this Rachmaninoff  program at a number of venues before, and it always a big success. The Festival organizers very much wanted to have it also as part of their event. It will include all of Rachmaninoff's concertos.
ТB -You have a son, who, as I hear, is also a musician. How old is he?
ОК – He is twelve now. He was born and raised in a musical family, and he started playing when he was just three. At first, it was at the Moscow Central School of Music, where I also studied, and these days he is a student at theJuilliardSchool.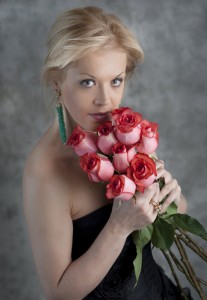 TB -Are you thinking of touring with your son?
ОК  -We have already played several duets. It was at the tribute to Van Cliburn on the occasion of the 50th anniversary of his winning the Tchaikovsky Competition. My son was eight and a half at the time. We did several pieces by Ravel, Mother Goose Suite, and Rachmaninoff's Italian Polka. Van Cliburn did not know what we were going to do, it was a surprise. And when we started playing Ravel, he burst into tears, the tears of joy. It turned out that when he was small, he played this music with his mother. Taking part in Van Cliburn's tribute was a big thing for my Vladik. It was a dream come true.
ТB -I was told that your great-great-grandmother was Anna Kern, a legendary muse of Alexander Pushkin. Do you hear an echo of that extraordinary woman in your life?
ОК  -You know, I do indeed feel it sometimes. I am a Kern on my mother's side, and on my father's side my great-great-grandmothers were born into the families who were very close friends of Tchaikovsky and Rachmaninoff. My family has preserved some absolutely precious photographs, as well as letters that Tchaikovsky had written to my great grandmother. Both sides of my family resonate in my soul, and impact my life and my work.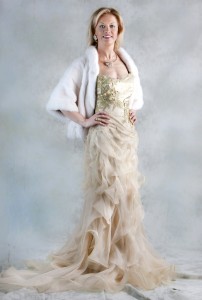 ТB -You always look so exquisite on stage. Do you match your concert dresses to the music that you're performing? 
ОК  -Oh, yes, this is quite important, and not just the style of the dress, but also its color that is very telling. For the music of Rachmaninoff, I think it best to wear bright intensive colors. For Shostakovich, I am sure, red is a must; I perceive his music colored exactly in red. It's clear to me that music, in general, is colored, that it produces definite coloristic images. It was no accident that Alexander Scriabin thought of every single note as having a particular color. I tend to think the music of Brahms or Beethoven lends itself more to dark colors. Dark green or dark blue go with the music of Shuman. Light beige is associated with Chopin, his music is so light and romantic. Every composer's music has its own color.
ТB -You're a virtuoso pianist, one senses that you've had a great schooling as a musician.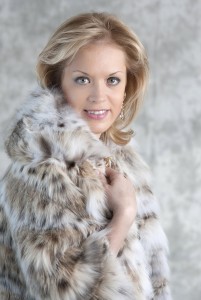 ОК -I was very lucky to have had outstanding teachers. At theCentralMusicSchoolinMoscow, I was a student of a top master – Evgeny M. Timakin, the Honorary Teacher of theRussian Federation. At the Moscow Conservatory, my professor was Sergey L. Dorensky. I did my postgraduate work at the Moscow Conservatory while also at the same time studying in Italy, in Accademia pianistica di Imola. That Academy enrolls just two pianists a year, but I was accepted, and even received a scholarship. So, I had a pretty rounded, comprehensive education that exposed me to different traditions. I became aware of the history and culture of Italy while preserving the spirit of the Moscow Conservatory and my grounding in the Russian school.
ТБ -I would like you to tell me something about the foundation that you and your brother set up to help other musicians.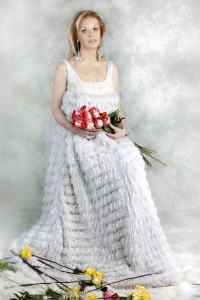 ОК  -The foundation that we recently created is called Aspiration. Its goal is to help musicians of all age groups. It was done to honor my grandfather, Ivan F. Pushechnikov, who was himself a well-know musician and a teacher. The assistance that we received from Spivakov's Foundation enabled us to get started. We are now in the process of putting together a competition for wind instruments. Again, we offer assistance to both very young musicians and to elderly ones who have fallen on hard times. Hopefully, it will help them to get by and still do lots of useful things professionally.  This is my strong wish and hope.