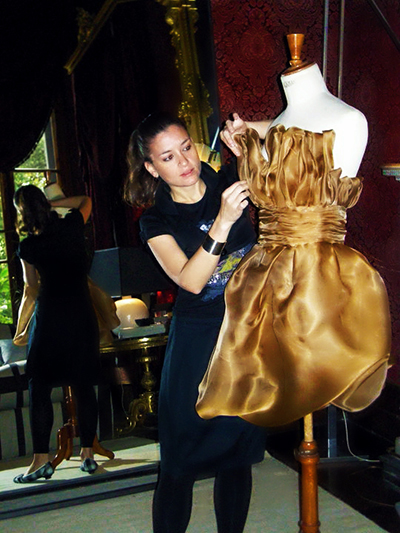 Veronica Spadaro:
"I was born in Caracas to Sicilian parents, I lived in Venezuela for up to 6 years. Then I moved to Italy and grew up in Sicily. After high school I attended college for fashion in Milan (Istituto di Moda Burgo), studying fashion design and patternmaking. When I finished, I moved to Florence, the city of the Renaissance, which for me is a constant inspiration.
I really love my family, and I am grateful to them for having followed this dream.Currently my mom (social educator) and my brother Diego (motion graphic designer) live in Florence, my father (tradesman) lives in Venezuela, and also another part of my family live there.
I love so much to travel, the places that I privilege are Paris and New York City and I go there whenever I can.
Another hobby is painting and I love going to see art exhibitions around the museums.
I love the opera and certainly the film with her ​​costumes.
I am very religious and I thank God every day for everything that gives me in my life."
[al2fb_like_button]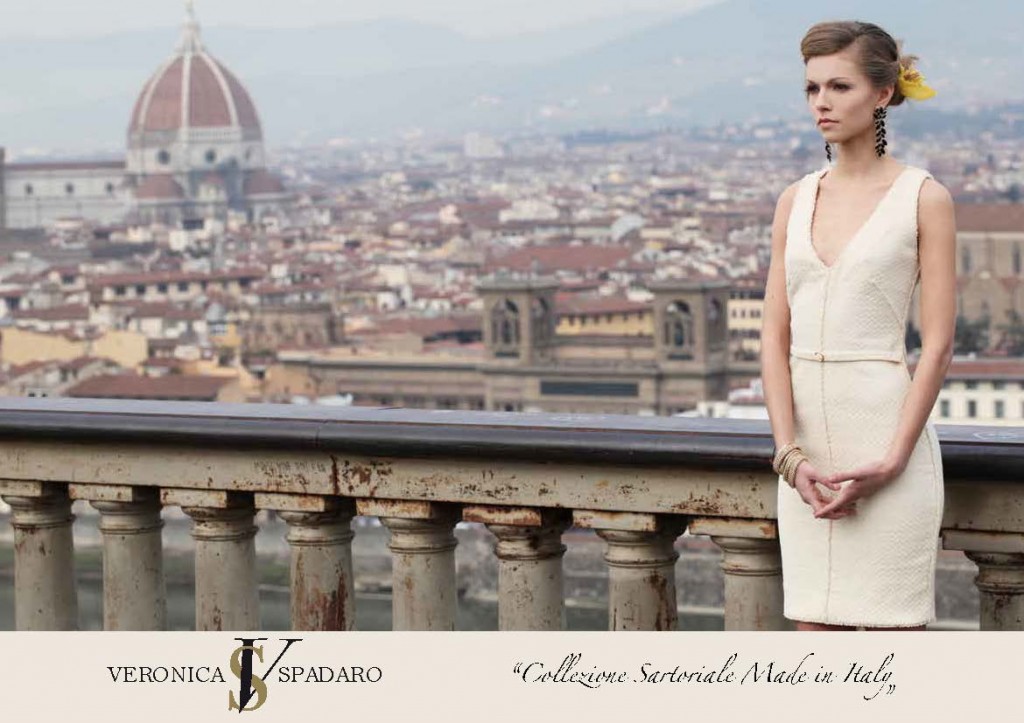 After pursuing classical studies, Veronica Spadaro, who has always been fascinated with 1930s atmospheres and inspired by the refinement of Parisian haute couture, devotes herself entirely to fashion and begins her training as a designer, obtaining a diploma in sartorial model-making in Milan.
Once Veronica has concluded her training, she moves to Florence with the ambition to create her own fashion brand.
She works as a designer for well known brands, developing from the very beginning a predilection for the handcrafted tradition of the highest level.

Destined to a sense of beauty, style and creativity, she breathes the culture and art of the Florentine city, which are a further source of inspiration for her. Since Florence and fashion are a historical combination rooted in the prestigious tradition of workshops of arts and trades, it is not long before the designer begins working with dressmakers in prestigious ateliers, designing her own creations, respectful of the tradition of excellence and extending her knowledge of the ancient dressmaking techniques, steering her brand towards a conceptual direction, a marriage between the exclusiveness of the made in Italy and the typical Parisian allure.

The creations of Veronica Spadaro are a synthesis of the concepts of elegance and attention to detail, which are enriched by experimentations with new techniques and processes, in keeping with the tradition of excellence of the made in Italy.
The garments are created with a timeless and sophisticated woman in mind, who is also well-educated and audacious. A sensual woman, whose femininity is not ostentatious but strong and passionate.
From the very outset, Veronica Spadaro Couture has professed a sartorial philosophy respectful of elegance. The style of the brand is inspired by the school of great Florentine tailors, and, after winning various contests for national designers, the brand has been able to carve out a niche for itself in the field of haute couture, creating statuesque garments with flawless details.
A Veronica Spadaro Couture outfit is designed with a very simple ambition in mind: to create garments and accessories that, unlike other fashion products, will not be subject to obsolescence, and will hence not be promptly replaced by the consumer.
The garments are designed to be worn for events ranging from… important dinners, evenings at the theater, vernissages, a game of bridge at the club…